A few years ago I wrote a big article about how I'm self-studying Japanese. Over the past couple of years, I always updated it with stuff I discovered and started to use but the core has stayed the same: Genki, Dictionaries of Japanese Grammar, and Japanesepod101 for listening comprehension. My three pillars of studying Japanese. But I forgot how crucial it is to talk and converse with a native. I got the tip to study Japanese with an italki teacher because I just couldn't find a good one locally.
Over the years I lost track of my daily routine countless times and always had trouble integrating Japanese into my daily life. Of course, I like reading manga but these are always phases for me and I'm not reading a lot daily or even monthly for that matter.
I think it's the most crucial aspect of learning a language. It has to be effortless, something you enjoy and would do nonetheless. It should not even be able to become a chore when you have to read a manga, watch an anime episode or read something in Japanese. But to find that niche for you is extremely difficult.
Best case scenario: You're living in Japan. Of course, this is the easiest, most comfortable way to use the language and be constantly immersed without forcing it. Unfortunately not an option for me so I have to look elsewhere. That's when I discovered italki again
Table of Contents
Why you should get a Japanese italki teacher
When finding a Japanese teacher in your hometown is out of the question and finding one using Genki is next to impossible – italki is your best bet and an excellent choice.
Studying Japanese on your own can bring you far, but without someone to talk to in Japanese, it will be a very long and dry experience until you finally get to the stage where you at least get the gist of things.
A language is meant to be spoken and through speaking it and conversing with a native you get a feel for the sound and rhythm of it. I know this sounds a little esoteric but I promise you that your Japanese will improve tremendously once you start speaking with a native.
And when that native is a teacher who answers your questions, knows how to explain a grammatical concept and how to teach it to you what is there not to be liked?
At least for me finally studying Japanese with a real teacher by my side and just speaking some Japanese helped me immensely and many of these "unfinished sentence structures" became a lot more clear once I started using them for myself.
italki, the site, the teachers, and finding the right one for you
Having another look through the two Genki textbooks (and their recent revisions) I noticed how wonky some of the grammar explanations really are. Sure, you have the Dictionaries, but still, some things are best explained by a native who can give you a few examples. And can correct you when speaking and going through the exercises.
To find the best Japanese italki teacher for you I suggest being very clear about what you want to achieve.
Do you want someone to go through the Genki textbooks step by step with you or just someone to chat with and ask some questions you encountered when self-studying?

Of course, you will self-study during the week and prepare for the lessons but you should think about the lesson style you expect from your teacher. Structured with a specific textbook (Genki or みんなの日本語), a professional who knows these textbooks inside and out, or a Japanese teacher to hang out with and ask some questions, do some Genki exercises and practice talking Japanese?
Be clear about the lesson style you expect and communicated clearly to your teacher what and how you want to achieve it.
If you want to tackle one chapter of Genki each week – great. Your teacher (if he/she is good will push you to reach your goal).
The prices, trial lessons, and differences between teachers
Trial lessons are 30 min lessons you can basically take with any teacher. The pricing is according to their individual hourly rates. These range from roughly 10 to 30-40 USD/h. The billing is always taking place in USD so when prices are converted to your own currency, it's just for display purposes.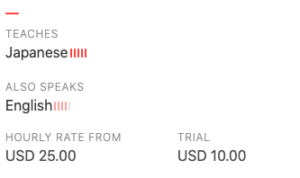 There is a distinction between community tutors and professional teachers. The teachers all have a fitting qualification and usually some prior experience in language schools. You can have a look at their documents and cv in their profiles.
I personally highly suggest opting for a professional teacher who is using Genki. Why? Because these teachers know the textbook they are using inside and out. They know exactly where, and how something is explained in the textbook, know which vocab was introduced when and where, and know exactly what your Japanese capabilities are at that specific point in Genki.
That's what I expect from a professional italki teacher and trust me: They are usually on that level and well worth their hourly fee.
Teachers are offering lesson packages of 5 hours with a small discount (5-10%). I always just buy these and plan my hours well in advance. That way I feel obligated to prepare for the lessons and have a set schedule with my teacher.
The lessons can either be held over the in house video chat by italki themselves or just by making an arrangement with your teacher. Many are using skype as well and will probably prefer it because of the better reliability and quality. The choice of your video chat app really depends on what your teacher and what he/she is using.
My tips for selecting an italki teacher
Always look at which textbook the teachers are using
My teacher is making notes in a Google Doc for each lesson.
I find this super comfortable and great for repetition.
Make sure you vibe
Sounds obvious but just settle for a teacher when you have the feeling you'll get along great. This adds to the feeling that you really want to study just so that your next lesson won't be a total disappointment to your teacher.
Make sure that you can establish a study routine with your italki teacher that fits your own schedule.
Nothing worse than finding the perfect teacher only to find out that your schedules just don't match.
Establish a routine and goal and stick to it.
Nothing good comes easy and so is studying Japanese. I speak from experience :)
I hope my little guide on italki could give you a little inside into the world of socially distant language learning. Especially when living in a small town where it's next to impossible to find a decent Japanese teacher and one who is using Genki seems near impossible – italki is a great alternative. After over three months of taking lessons, I'm really happy to finally have taken the step to get a professional teacher to help me achieve my goals.
Do you have any experience using italki or want to share your favorite teacher? Would love to hear more from you in the comments. Like always, stay safe, and thanks a lot for reading my little blog.