When learning a language you need a solid way to build a vocabulary base first and then you can go on and start to slowly consume native content. Currently, I find Nihongo Lessons to be the absolute best way to do this. And yes an iPhone App is enough.
I started this blog 10 years ago after I just got back from my first trip to Japan. Since then a lot has changed in the Japanese learning sphere and a lot has changed the way content is consumed as well. Countless Apps hit the market but in the end, the main tools you used to study Japanese back then and today didn't change significantly.
Let's just keep it short here and say that things got more App-centric and with a few exceptions you can basically learn Japanese with your phone nowadays (more in my post about self-studying Japanese).
Table of Contents
What Nihongo Lessons is all about
Nihongo Lessons by the creator Chris Vasselli (who also makes the best Japanese dictionary App) gave the JALUP content a new home. A true staple in my Japanese learning journey. The App teaches you one new Japanese word per card which is embedded in a sentence constructed solely out of words you already learned.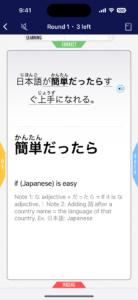 The best part: Each word is underlined and when you tap on it you get redirected to the card where the Japanese vocab was first introduced. It's genius, really.
Just have a look at my JALUP review to see how the App worked back in the day. It's defunct now and not available anymore in the App store but the basic functions remain the same in the new App.
Fortunately for us, the really fantastic flashcard system was sold to the creator of my favorite Japanese dictionary App who ported the content into a new App called Nihongo Lessons. The core functions are identical but the App feels more smooth and judging from his Nihongo dictionary I guess we can expect quite some improvements and additions functionality-wise in the future.
I really love how active Chris is active in his Nihongo Dictionary subreddit (always open to suggestions and feedback). It's really cool to see how ideas from the community get implemented into the product.
Why this App is perfect for your New Years' resolution to study Japanese again
But now on back to Nihongo Lessons. I was just getting back into studying Japanese daily after a little bit of a hiatus. Life got in between and I was focusing more on my studies for work (and definitely want to dig deeper into photography).
I wanted to re-download the JALUP App and thus stumbled upon Nihongo Lessons in the iOS App Store. Sent an Email to Chris to get my 50% discount on the new App because I already bought the JALUP maximum package back in the day.
Essentially I paid again for the same content I originally paid for. You could get the Jalup Anki Decks (for free) or keep the JALUP App on your iOS device but I really like the system and cards and decided to spend the money again.
Normally I wouldn't do that but because Chris already has a great track record with his Nohingo Dictionary I went ahead and spent the money on the "maximum package" with all cards again.
Really excited to see what he will come up with in the future. The first five levels from Beginner to Master contain 1000 cards each and are fully voiced and completely linked (each word is tappable).
The two Advanced Lessons (that introduce words from manga) are neither linked nor fully voiced. This was sort of the next stage that the JALUP create Adam wanted to tackle: To slowly introduce you to creating your own flashcards from native content.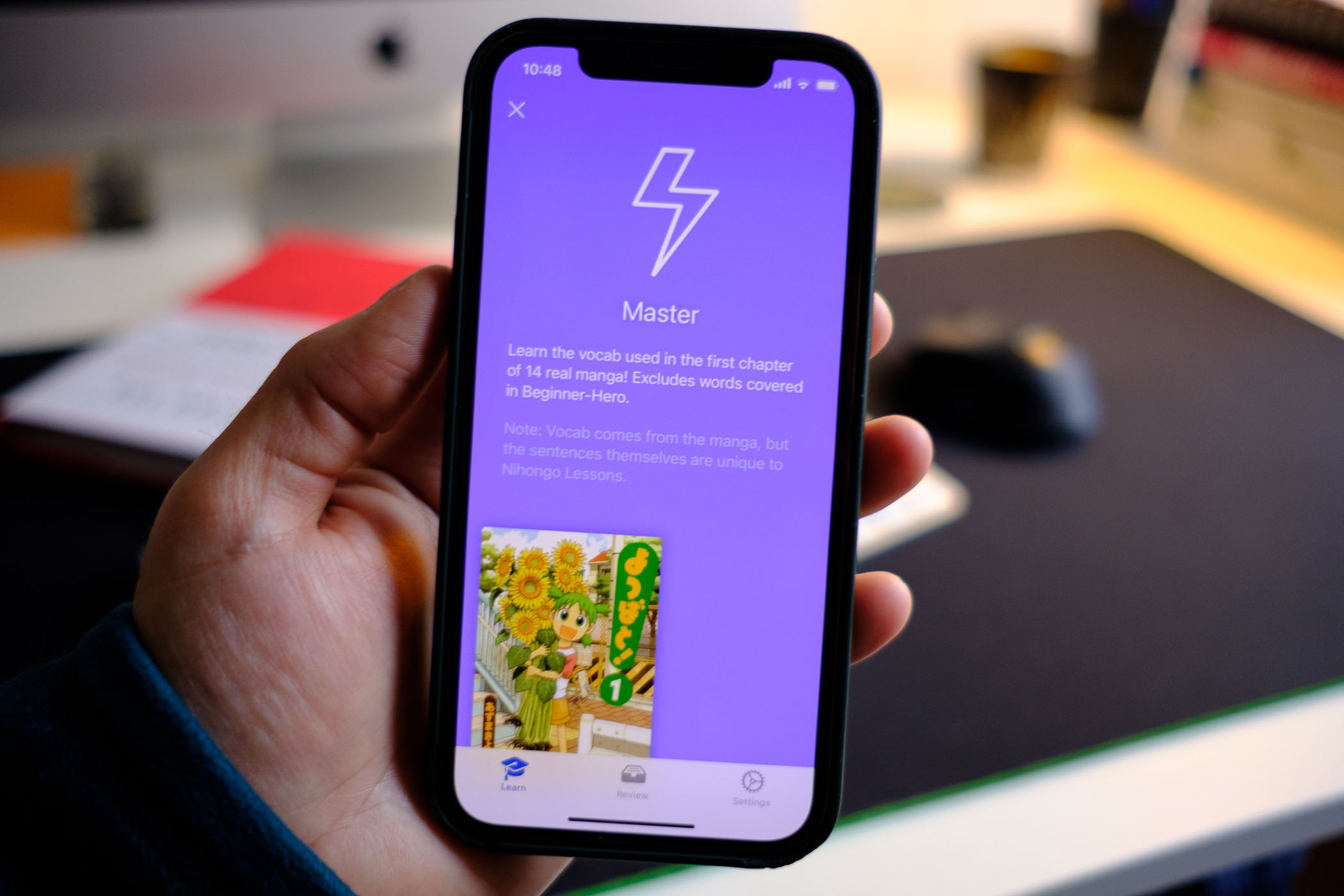 What I would love to see in the future would be a way to create your own flashcards in Nihongo Lessons where the words you already learned are automatically interlinked.
You can port over your progress from the JALUP App but I decided to start again from scratch.
Unfortunately, notes are not supported as of now but it's an upcoming feature as Chris told me via Email.
A few things changed
10 cards are now 1 Day (love it)
After completing a day you get a lovely stamp on the day 済。
The SRS system is identical to the one used in the Nihongo Dictionary App.
–> no huge review piles; not sure how this works maybe Chris could chime in here
Each word is now directly linked to the Nihongo Dictionary App
A few things that are good to know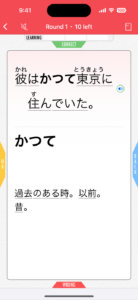 The main draw of the JALUP (Japanese level up) website was that Japanese should be taught using Japanese only. And thus only the first 1000 words from the beginner cards have English translations on their back.
After that, you're in Japanese-only territory, which is a huge gap to overcome. But it's manageable and if you stick with it this technique will really bring you forward Japanese-wise.
To make the all-Japanese transition a little easier, each vocab card has a link to the Japanese Dictionary (the small dictionary icon in the top right corner).
The pricing
The packs aren't cheap but are well worth the money. The pricing of 119€/per Pack (that each contains 1000 words) is money well spent. I already talked about this in my JALUP review where the pricing was the same. Good content is pricey to make and acquire and that's the case in every field of work.
I spent the money myself (a second time for 50% off) and strongly recommend Nihongo Lessons to you. Creating your own cards is definitely the cheaper way to build a vocab base but it's tedious (especially in the beginning) and of course, you won't get the amazing feature of linked cards.
Years ago I used iknow.jp with its Core 6k for a few months. It's a fantastic App and the content is excellent as well. But JALUP has the upper hand because of its unique card-linking system and its systematic approach to building your Japanese vocabulary.
Feature wishes for the future
I'm using Nihongo lessons for roughly a month now and really enjoy the "Level up" SRS system which is already part of the Nihongo Dictionary and its built inSRS system. A few things could be added to the App though to make it even better. I already wrote many of these ideas to Chris but would to share them with you guys (and of course, I'd love to hear your ideas as well).
Statistics + habit tracker: I used iknow to improve my Japanese vocab for nearly a year. It's a great piece of software. What especially motivated me were the pretty extensive statistics available. You could easily see your best streak of studying days in a row, and how much time you spent studying in total or per week.

The habit tracking was just a simple streak feature which really was a huge motivational boost to study every single day and not skip on the weekend.
Notifications: A simple notifications badge so you can easily see if you're up to date with your reviews would be great.
Bookmarks: Bookmarking cards and just having a "bird's eye view" on the ones you're having trouble with. Similar to the cards overview in Nihongos SRS would be awesome.
Making your own flashcards: My ultimate dream would be to make flashcards from your own content/pictures and study them in a "Nihongo lessons style" format. That each word will be clickable and bring you to the card you learned it first.

The translation could just be pulled from the Nihongo Dictionary (so no J-J learning with already learned words but that would be a little much to ask for). Maybe one could even pull the descriptions from a Japanese-only dictionary.

I really think learning in a sentence format is the way to go and because the Google OCR feature of the Nihongo Dictionary is so amazing I always wished this could be combined.