Covid-19 is strengthening its grip on Europe and with the close proximity of my hometown to Northern Italy, my whole city went into lock-down mode today. What better time to grab an unpacked box full of manga and get ready to sort? Bars, Cafés and Nightclubs are closed for over a week now. Stores are empty, Restaurants are only open till 6 PM and everybody is struggling for business. Except for grocery stores that are more frequent than ever and always sold out of toilet paper (why toilet paper, I don't get it).
As a result of that social and business melt-down people are sent home, into Quarantine, compulsory leave, and short-time work.
Many treated this as some kind of free holiday and were chillin' in the streets, having a BBQ, and just having a blast enjoying the spring temperatures. But as of today and the beginning of the lockdown, the streets are silent. Like in the Christmas holidays when everybody is with family or on January the 1st when everybody is still way too hammered to get out of bed.
Table of Contents
Use that special time to get ahead of things
Just two tips for you from the JT-headquarter before we're starting: Crashing, a hilarious and sensitive story about a freshly divorced comedian (HBONow), and Bad Blood, the story about Theranos a Silicon Valley start-up that set out to revolutionize blood test but ended up to be the biggest fraud in start-up history instead.
The show is just so well written and captures so much truth about life, break-ups, and relationships. Bad Blood, on the other hand, captures that incredible (in the worst sense possible) story that reads like a packing thriller. If you find the time read and watch it. But now, time for some manga:
Manga in storage
I'm using my time off for sorting through some boxes I packed away when I got my new Vitsoe shelves. Because Vitsoe is beautiful but not cheap, I didn't have enough money to get one big enough to hold all my books. Being a practical man I decided to put everything I didn't need on display in some moving boxes and put them in storage. My shelves looked clean now with just art books and the occasional manga and Monocle Travel Guide on display. But having things tucked away in storage and not having them on display is kinda like not owning them at all. Not cool either.
So today I decided to go through these boxes and have a look at what's in there. And I found a new home for these manga: Cramped in a sideboard for which I'll need to order a door so nobody can see the mess inside. But for now: Let's unpack and while I do so it's a good idea to take some pictures for you guys as well.
Netflix has Netflix Party and we're doing some spectacular "unboxing" together. So let's get started and have a look inside the box: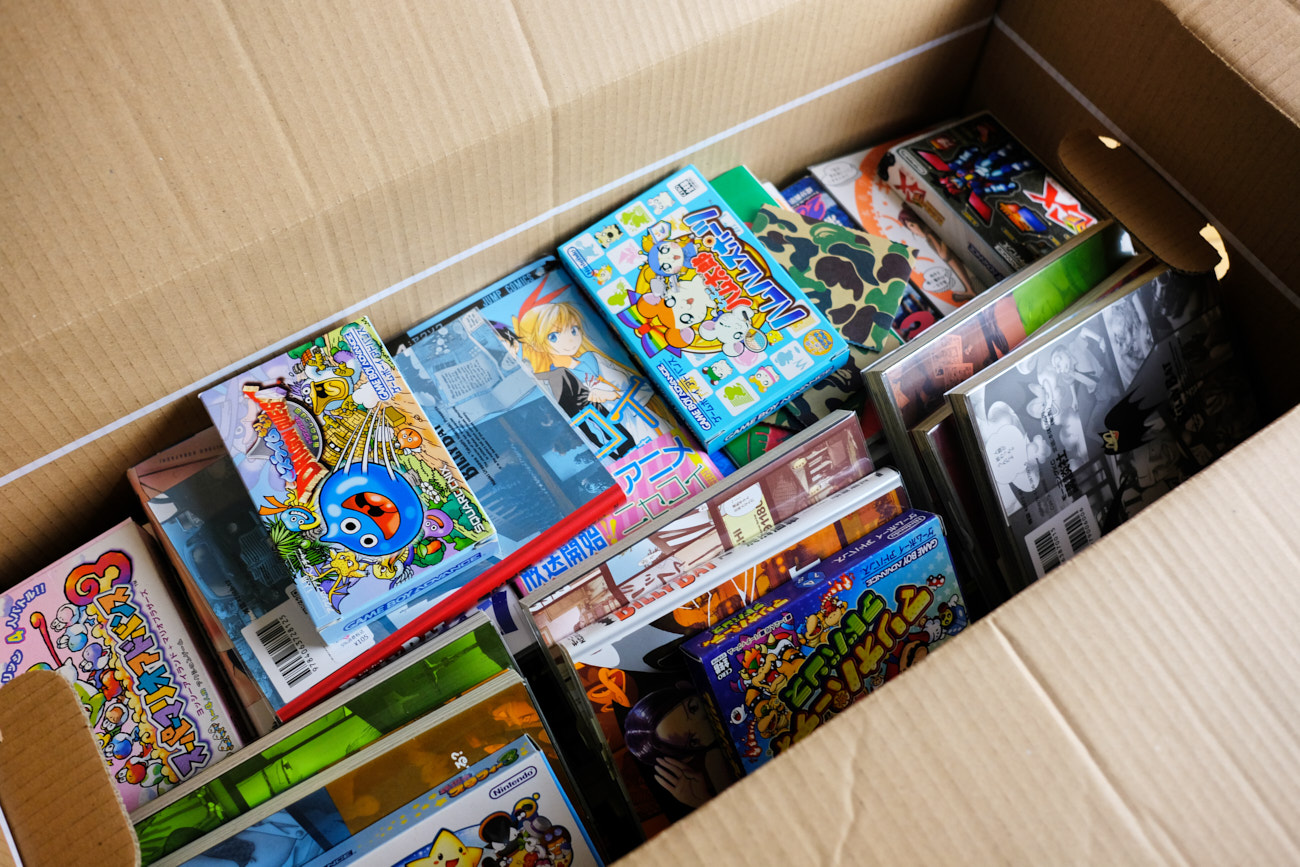 A glimpse inside the box after opening it. Among all the Japanese manga are a few Japanese GBA games I bought on my last trip to Japan.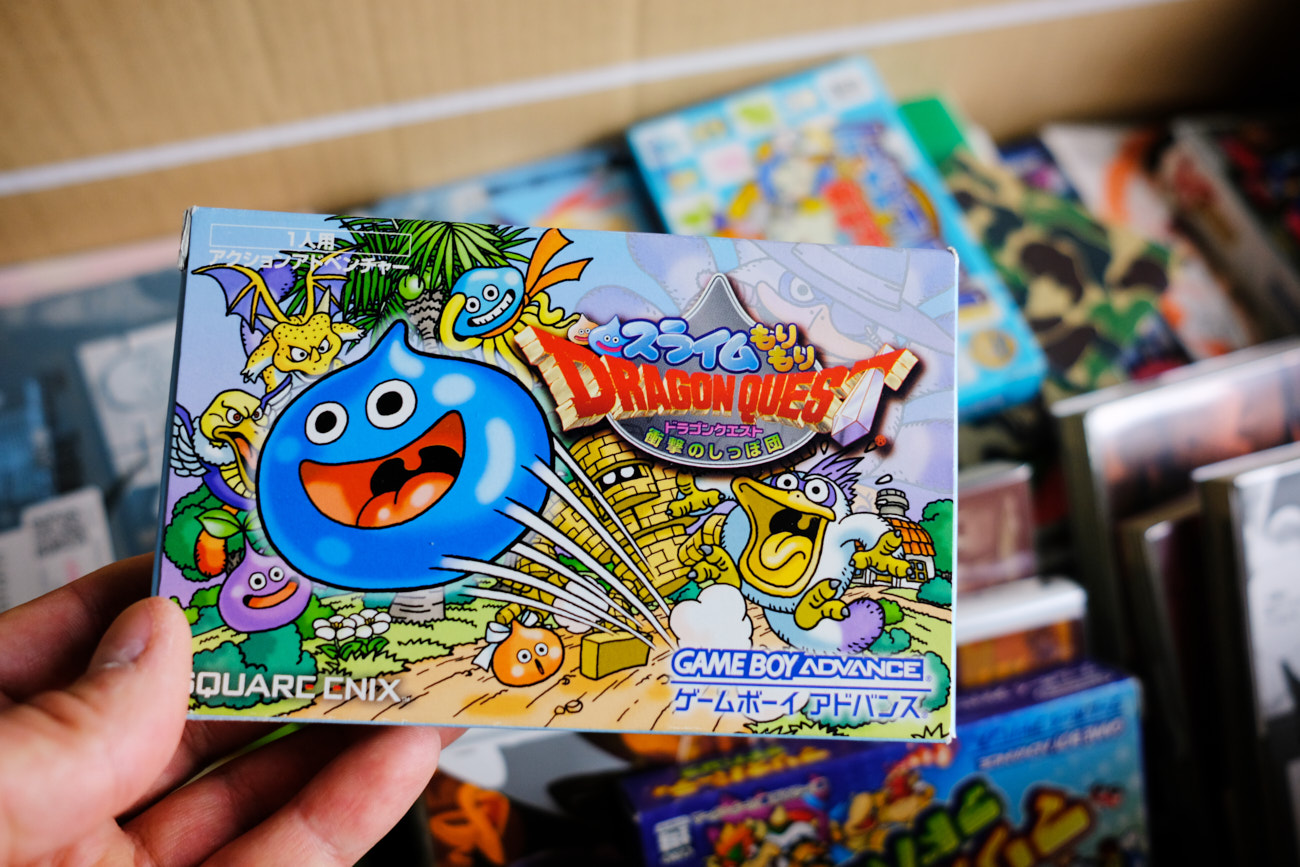 Dragon Quest games are great and I still need to properly start with DQ 11. First I tried to play the extensive DEMO on Switch but being spoiled by my PS4 Pro visuals on my OLED TV screen I just couldn't bear the Switch visuals anymore. Will need to try again on the PS4.
A time when packaging design was at its peak (and 2D handheld gaming as well). The GBA will always be my favorite handheld (alongside the Vita, of course). That reminds me: I need to list all those Visual Novels for the Vita so I won't forget to pick them up on my next trip to Japan.
If and a big if, Covid-19 will allow traveling safely till then (unfortunately, I had to cancel everything and it took two years for Japan to slowly open up its borders).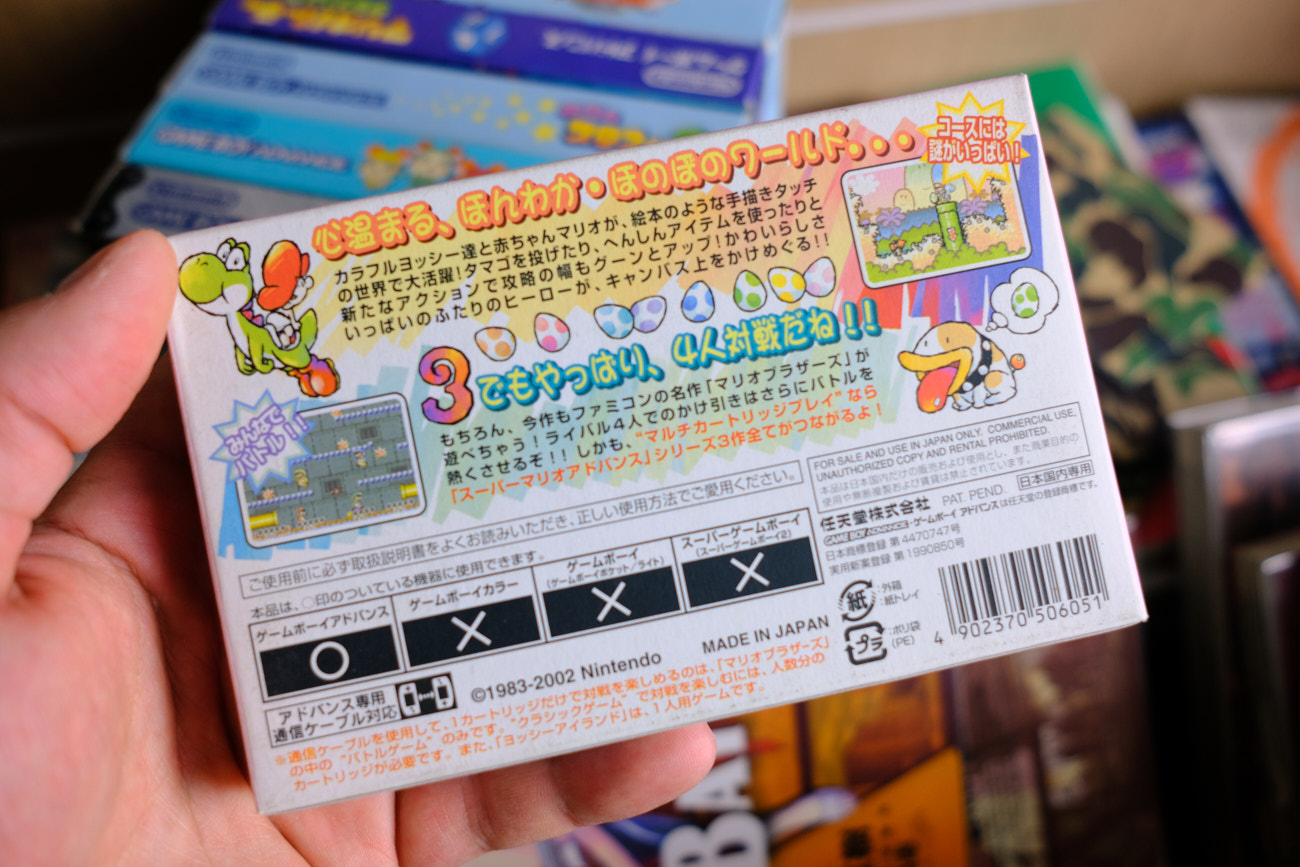 Super Mario Advance 3 because everybody loves Mario – and Baby Mario.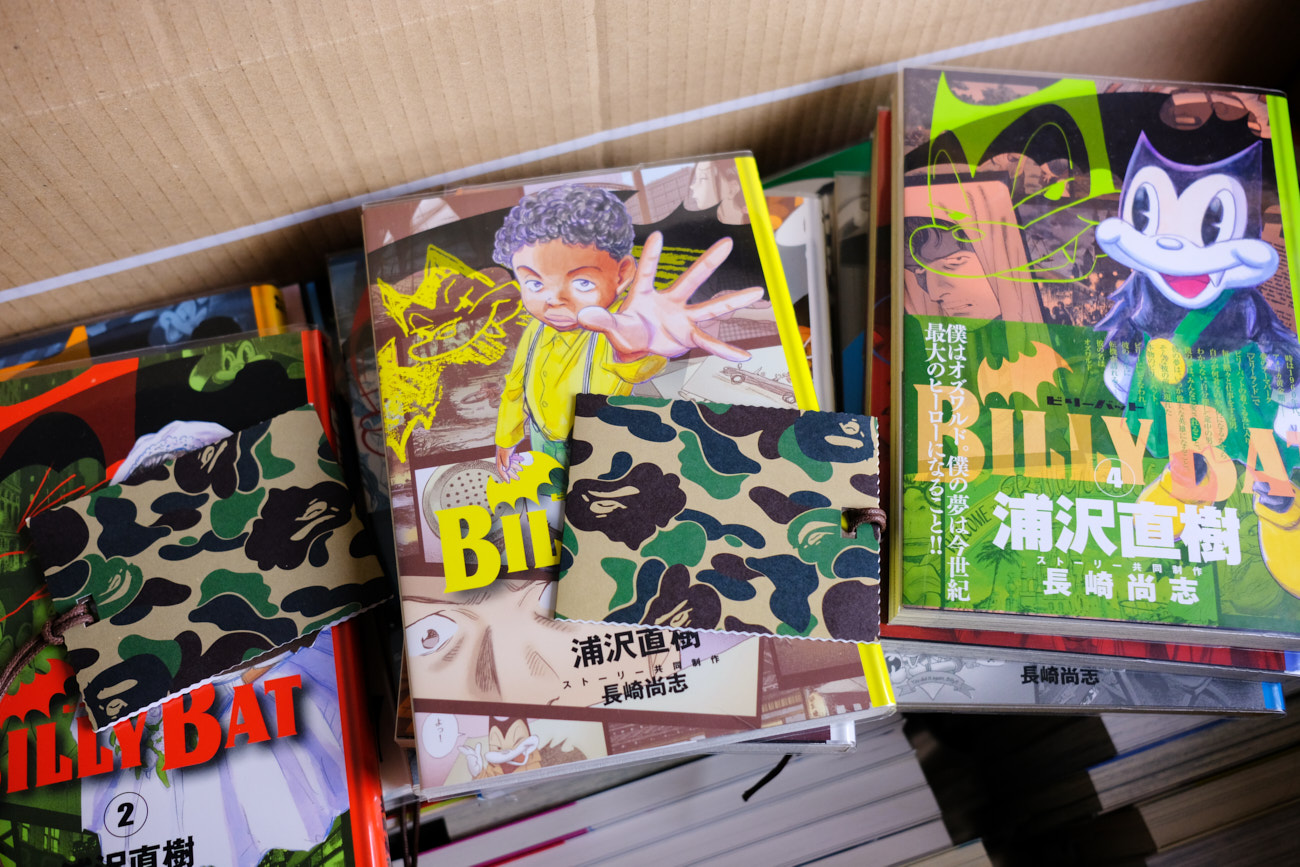 Billy Bat and some BAPE tags. I was crazy about BAPE for well over a year. I always checked their weekly drops on zozo and ordered the occasional piece. But now back to Billy Bat and my love for Naoki Urasawa. I stopped reading around volume 8 (a disadvantage is that you just can't read through the whole thing with an ongoing series).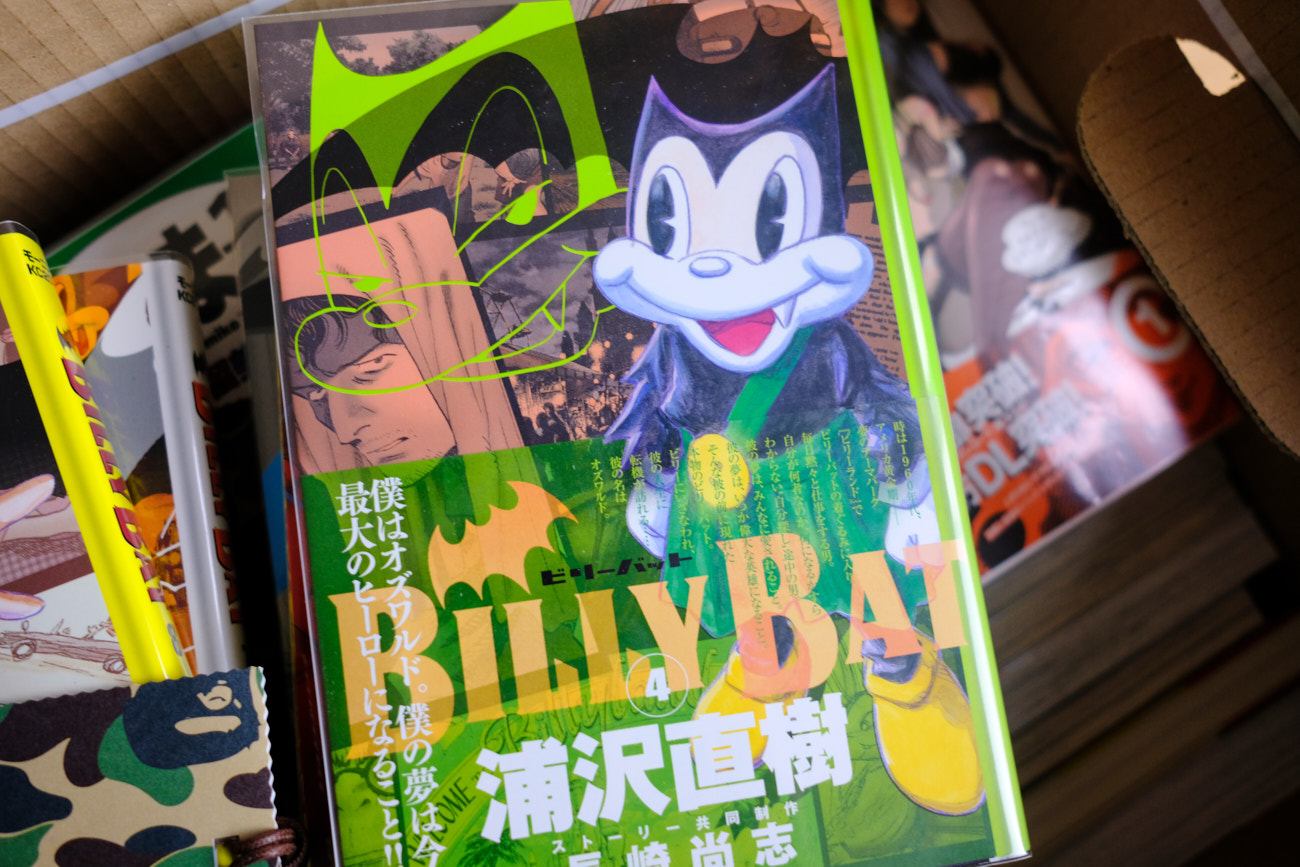 Fantastic cover design as well. I'm always puzzled when the original Japanese cover design was altered for different regions. This wasn't the case with Billy Bat but there are countless other examples out there.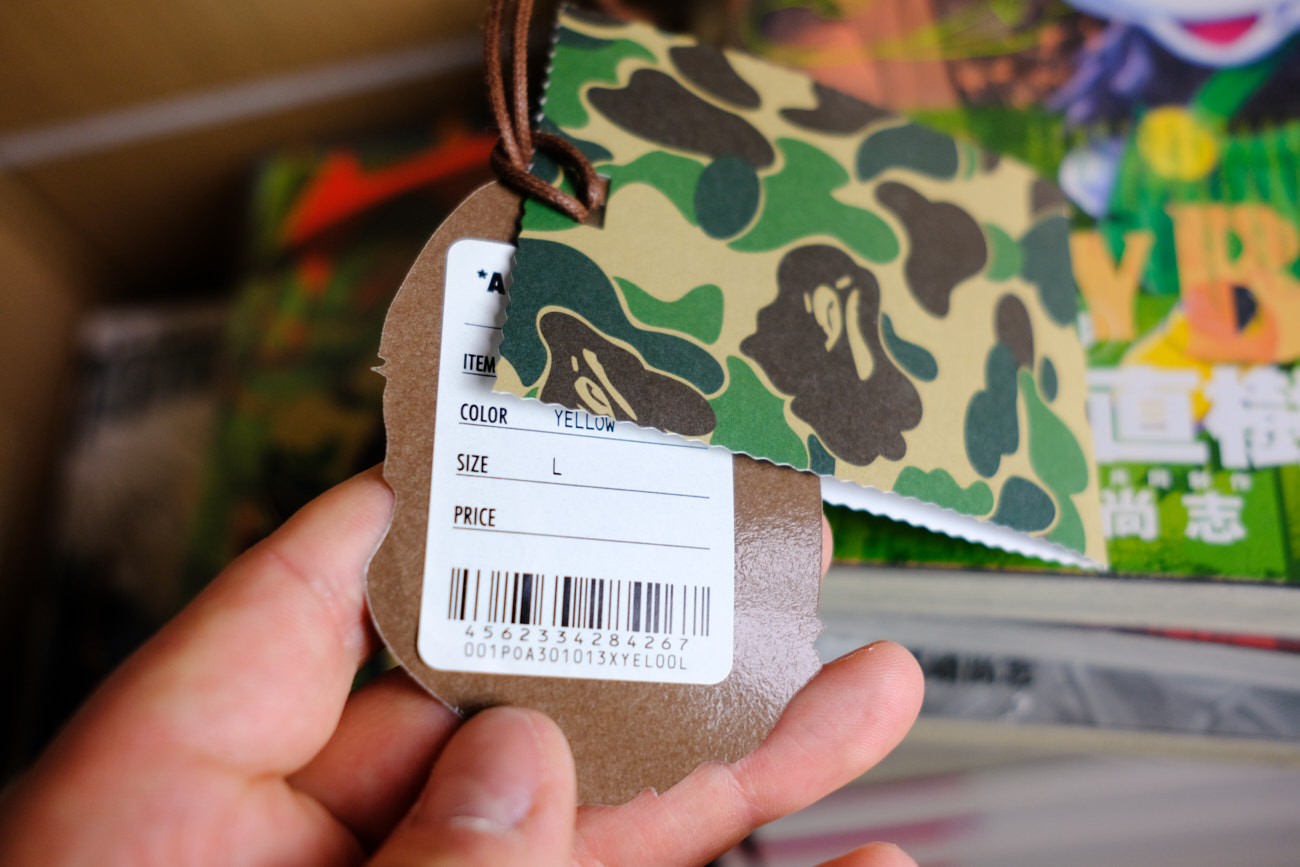 I'm using these Bape tags as bookmarks that's why I have so many lying around all over my place (and always near my books).
I know oftentimes I'm talking about a minimalist lifestyle and this and that but the truth is – collecting is great and there is nothing more inspiring than surrounding yourself with beautiful things you love.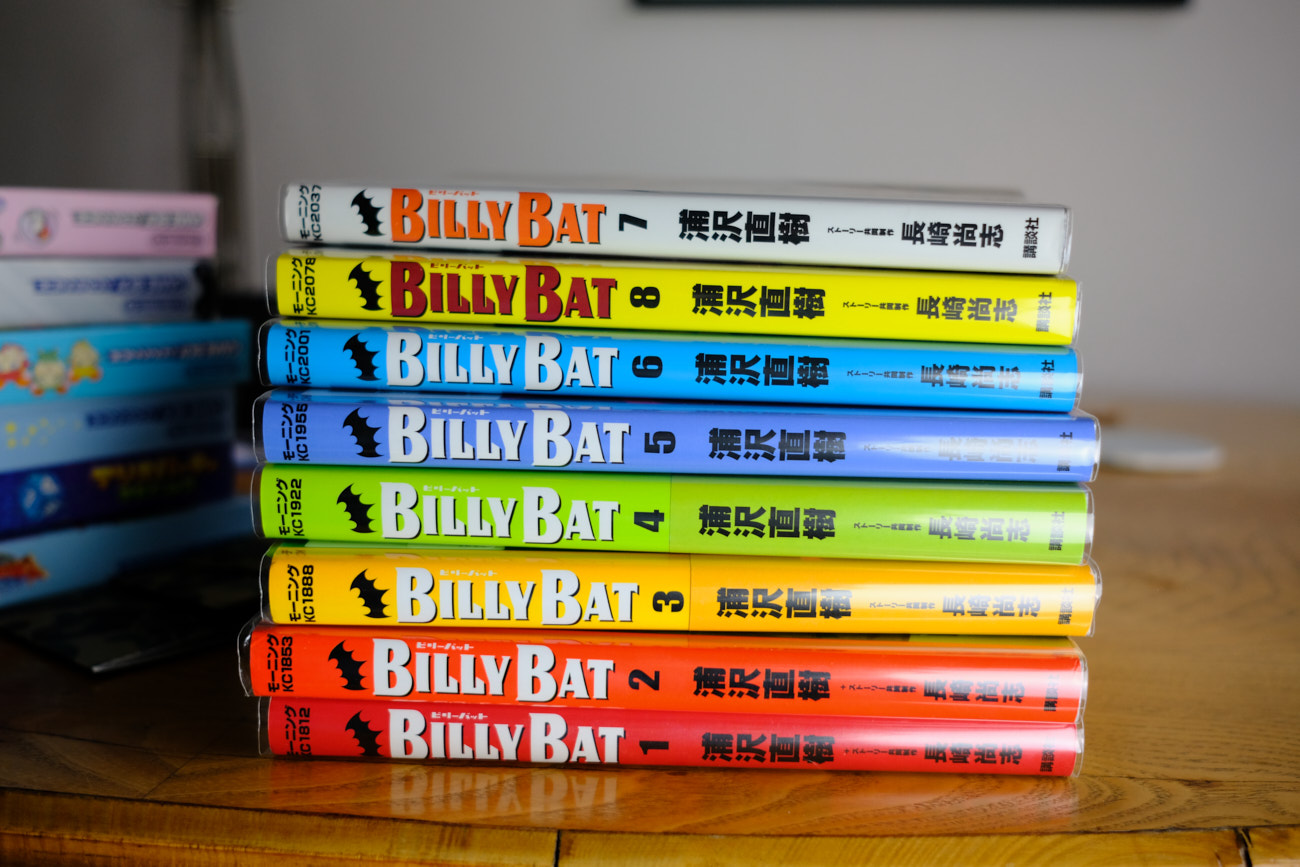 The whole shazam. I need to pick up the rest of the bunch for cheap from Mandarake when I'm back in Japan (again, hopefully, this September).
Urasawa is still the king for me. My favorite by him: Pluto (and always feels underrated).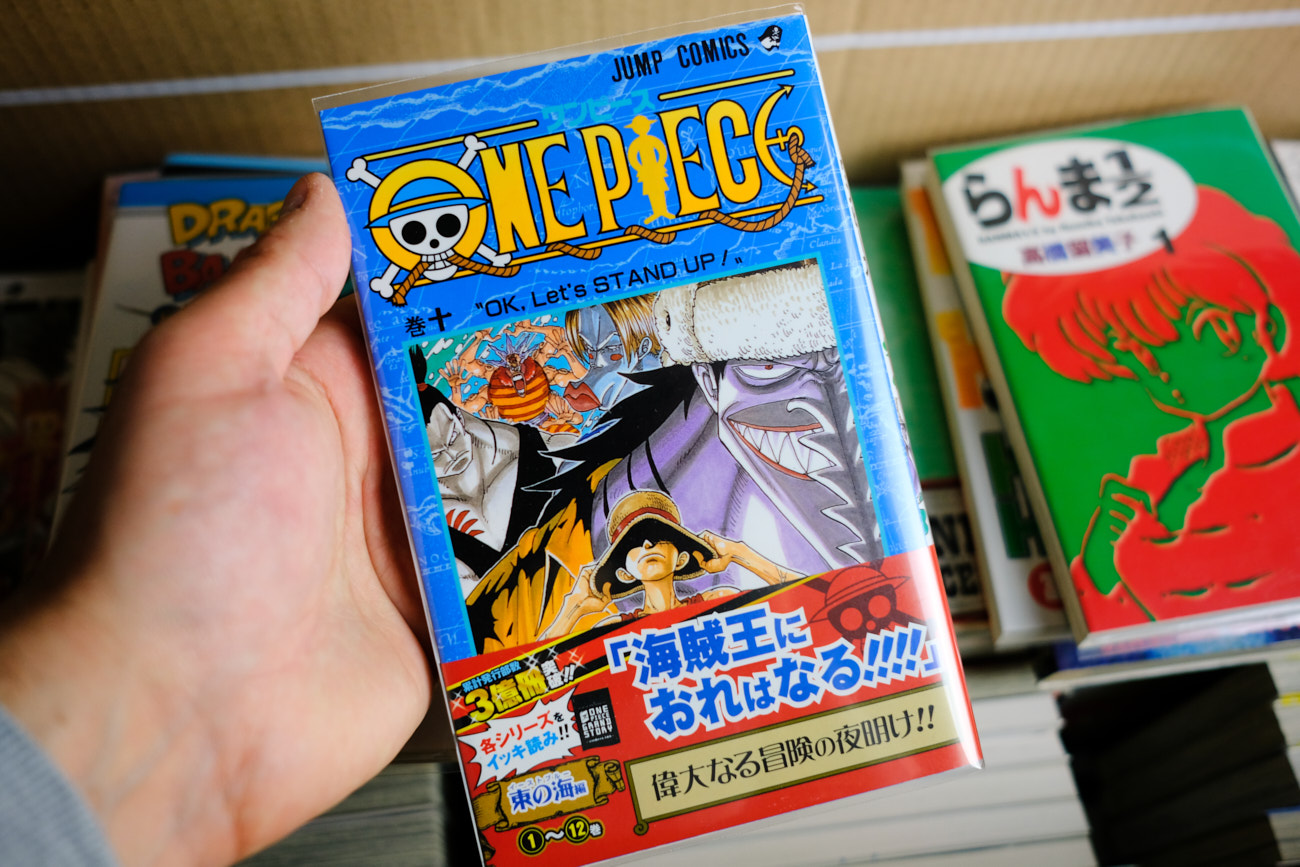 From that time when I tried to get into One Piece. I tried, I did and the characters and base story are pretty fun and intriguing. But for fuck's sake – just stop dragging the fights along and along and along. Needless to say – I stopped after a couple of volumes.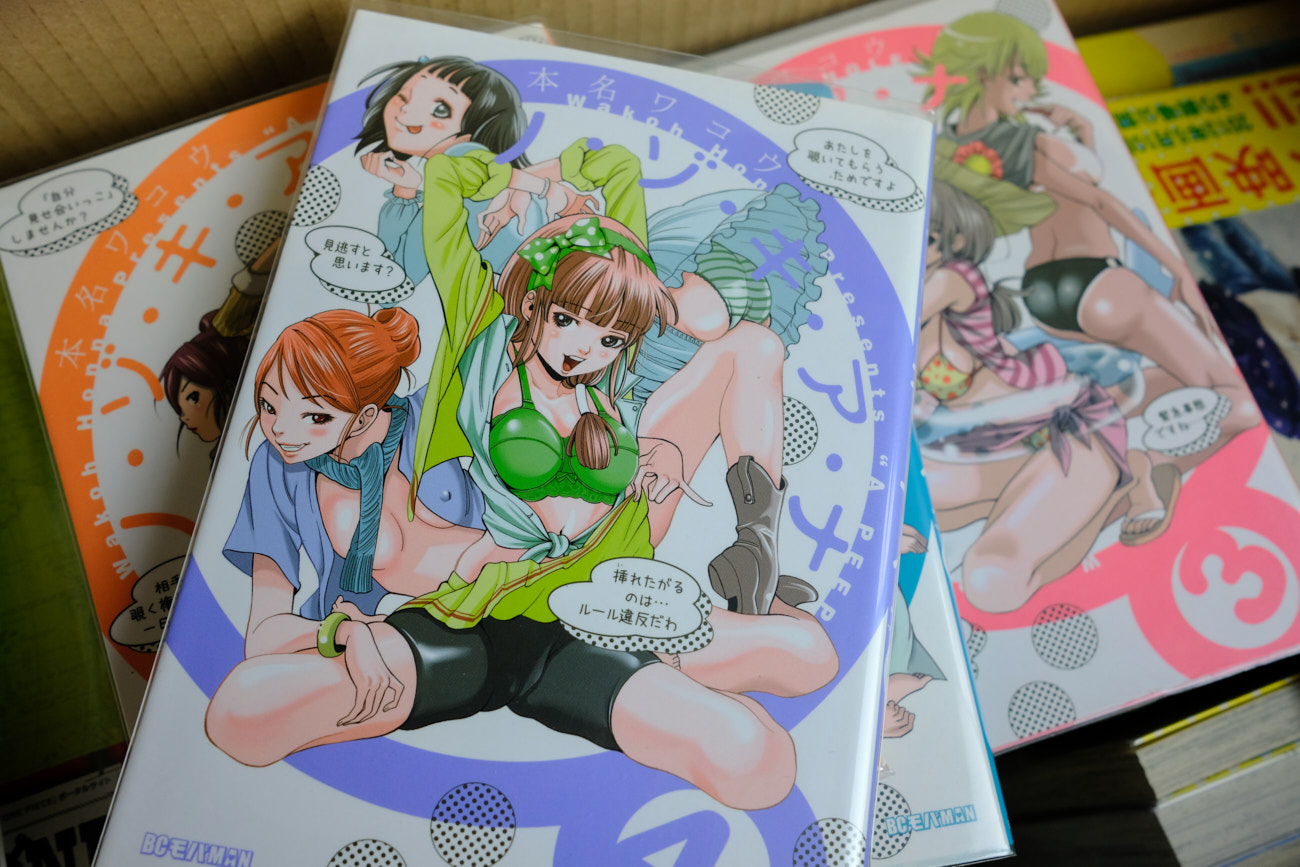 Nozoki Ana, my favorite erotic manga. For what it is: It's well-written, intriguing, has great characters, and is just a fun read overall (if you're into that kind of manga). And it's beautifully drawn ;)
I need to check out the new series by Honna Wakou called カイカンドウキ (checked it out and didn't like it. Great drawings but a tame story compared with Nozoki Ana and the story really had its problems to get going). Maybe some of you guys have read it. Would love to hear your thoughts.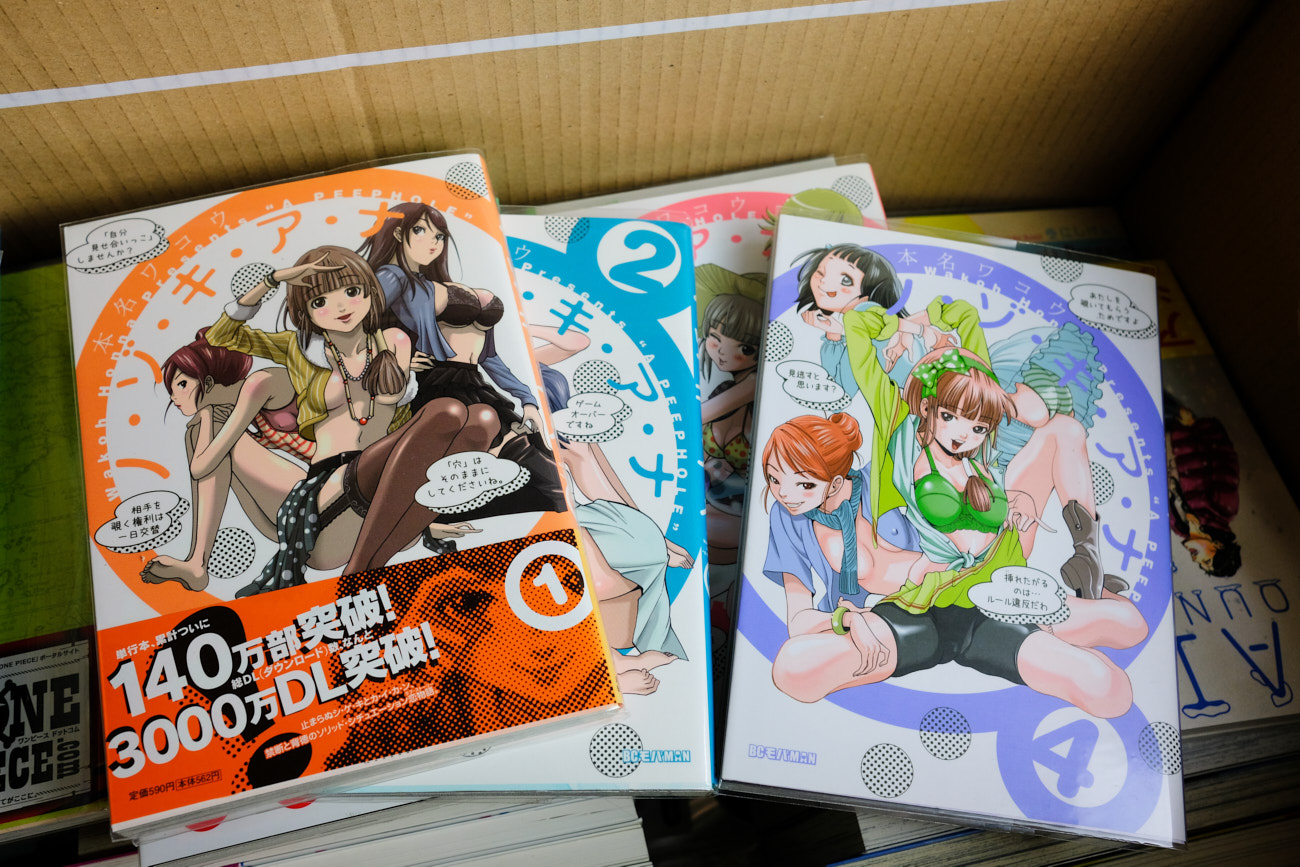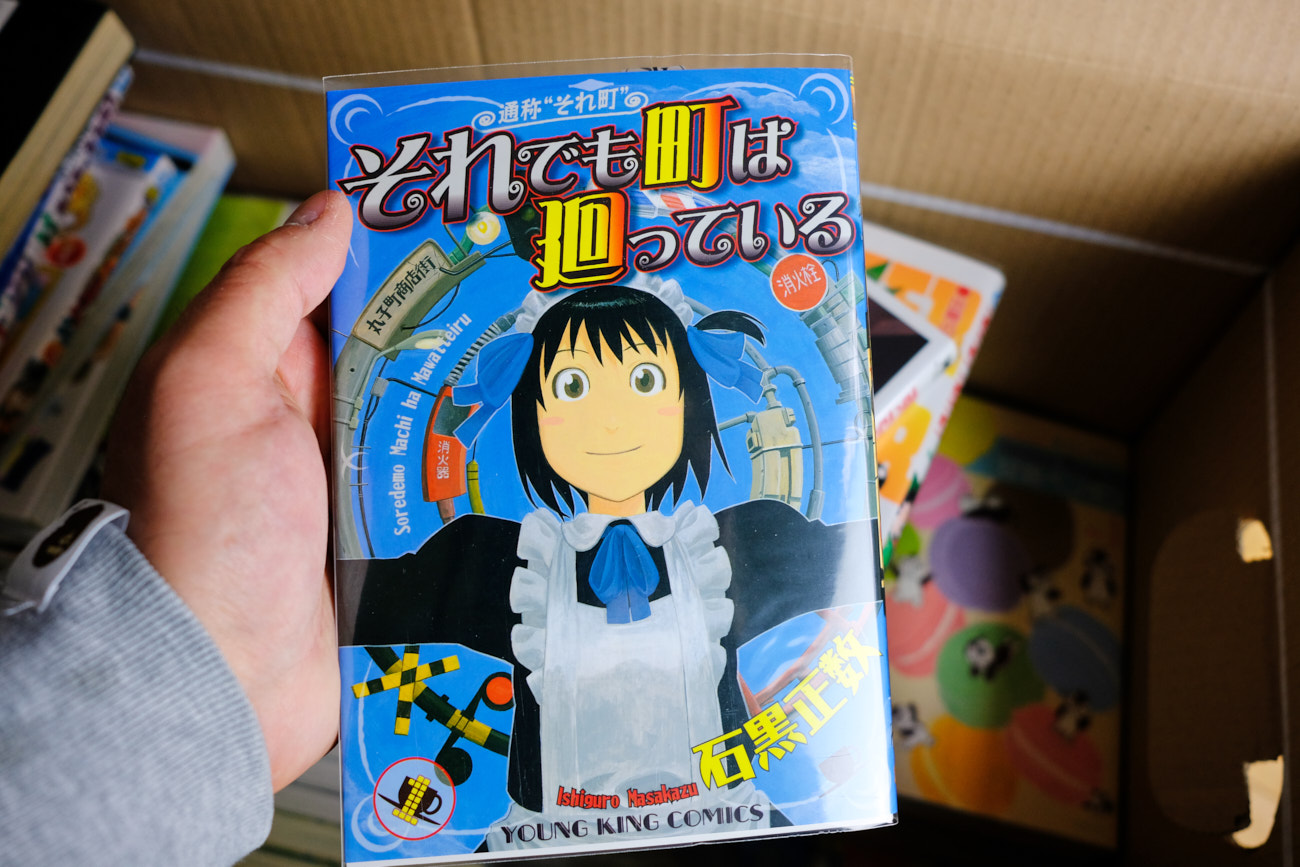 Great Seinen manga. A hidden gem about a girl that really wants to succeed working in a maid café but just sucks at it. Been a while since I read it and it's another contender that I should continue reading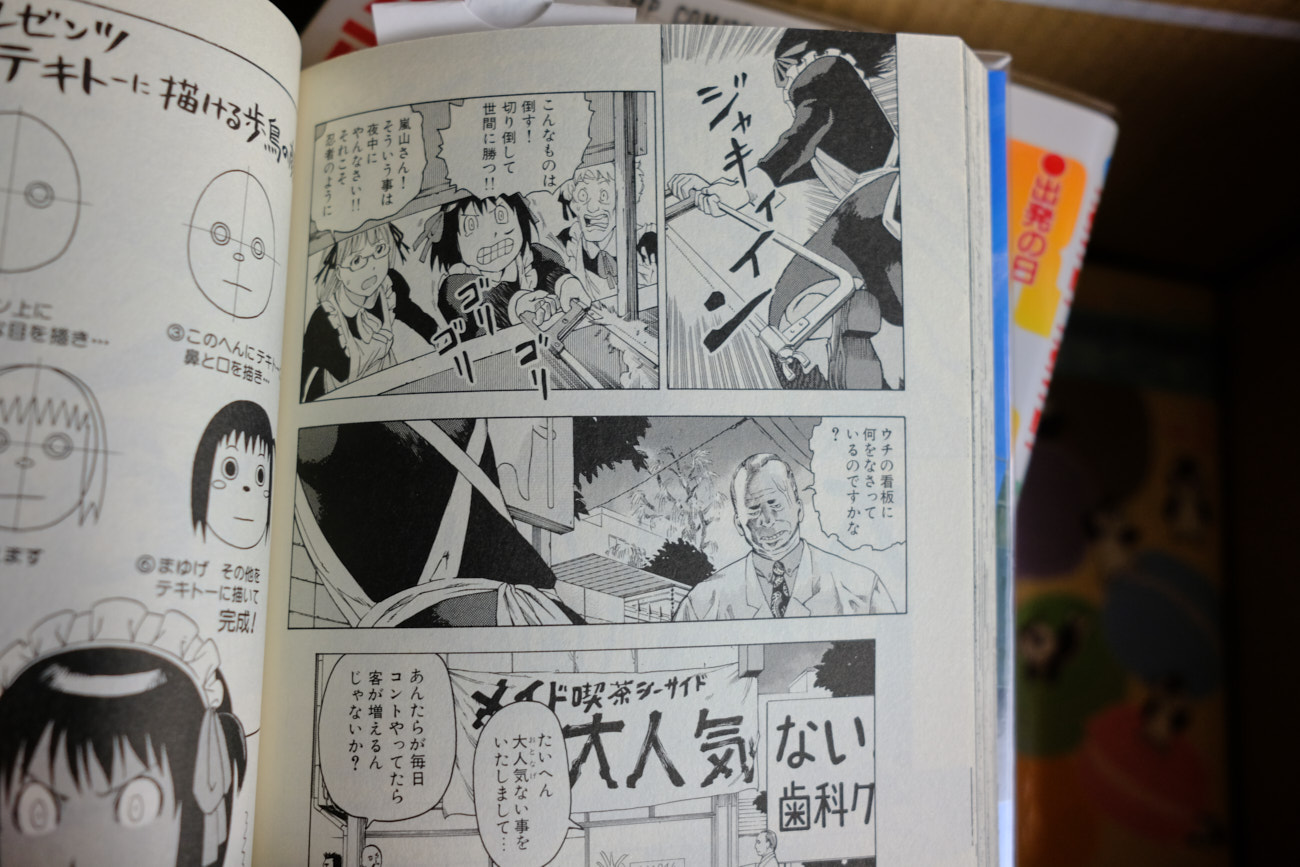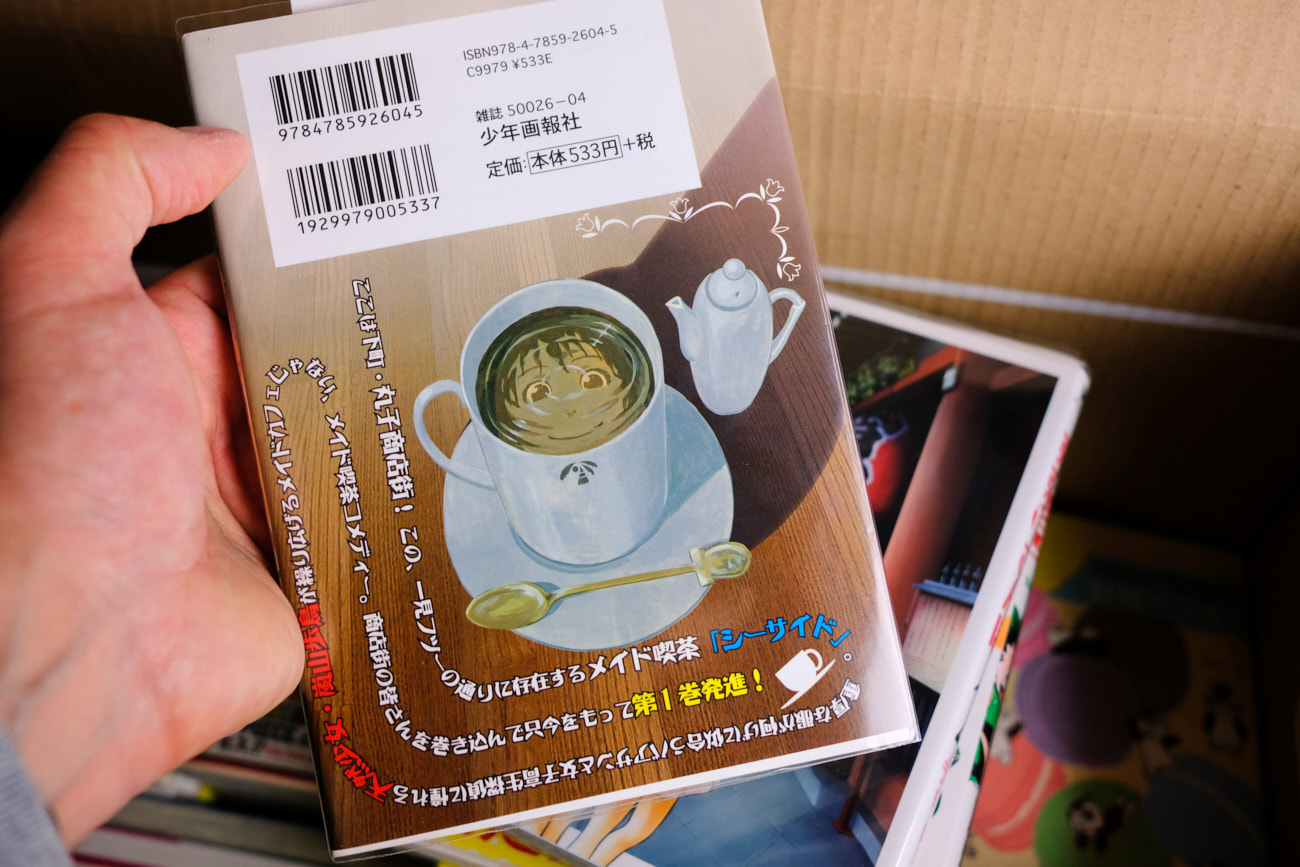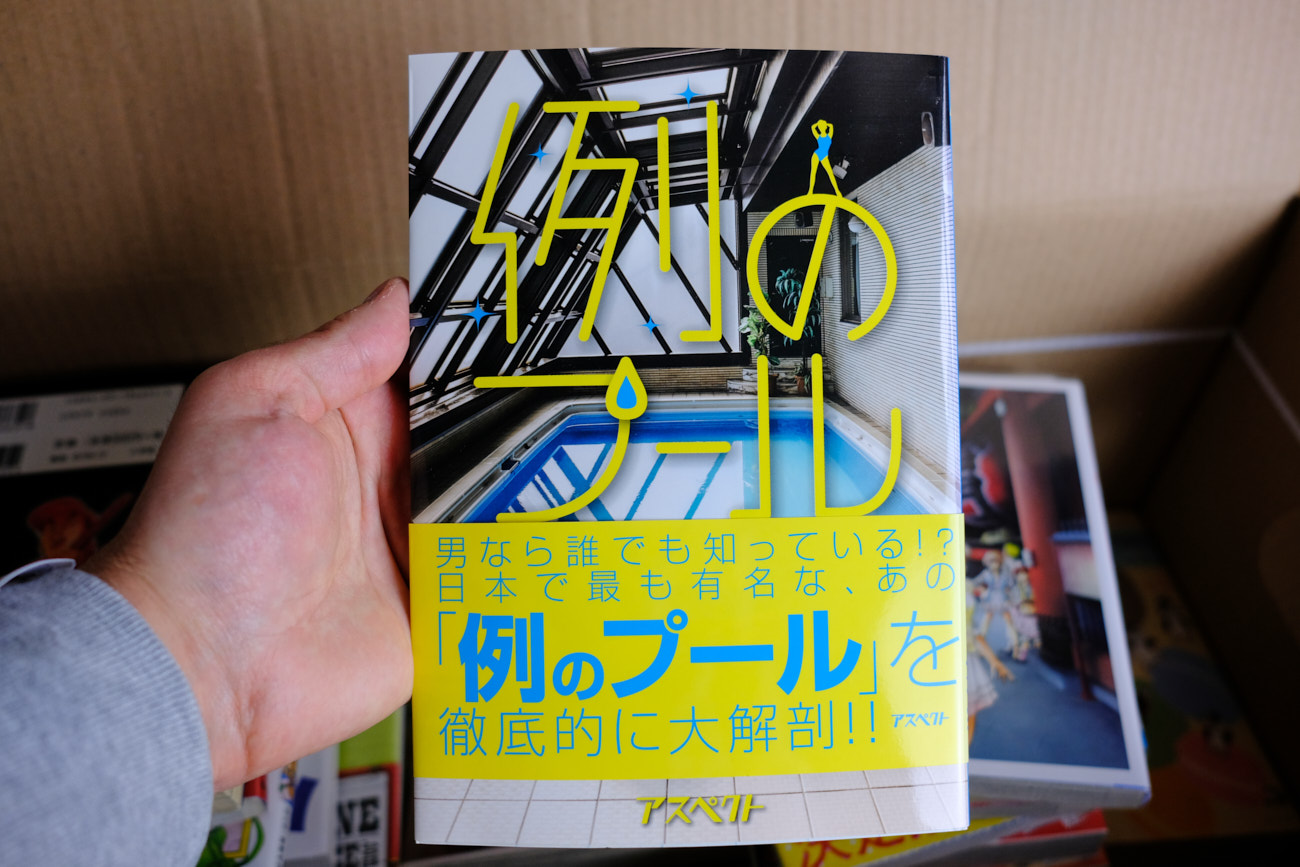 Something different here. A book about an infamous indoor pool that got famous for being the location of many porn shots. I picked it up mainly because it seemed like a fun one and because Shiori Kawamoto took the pictures (a good opportunity to tell you that I took some new pictures of his two books).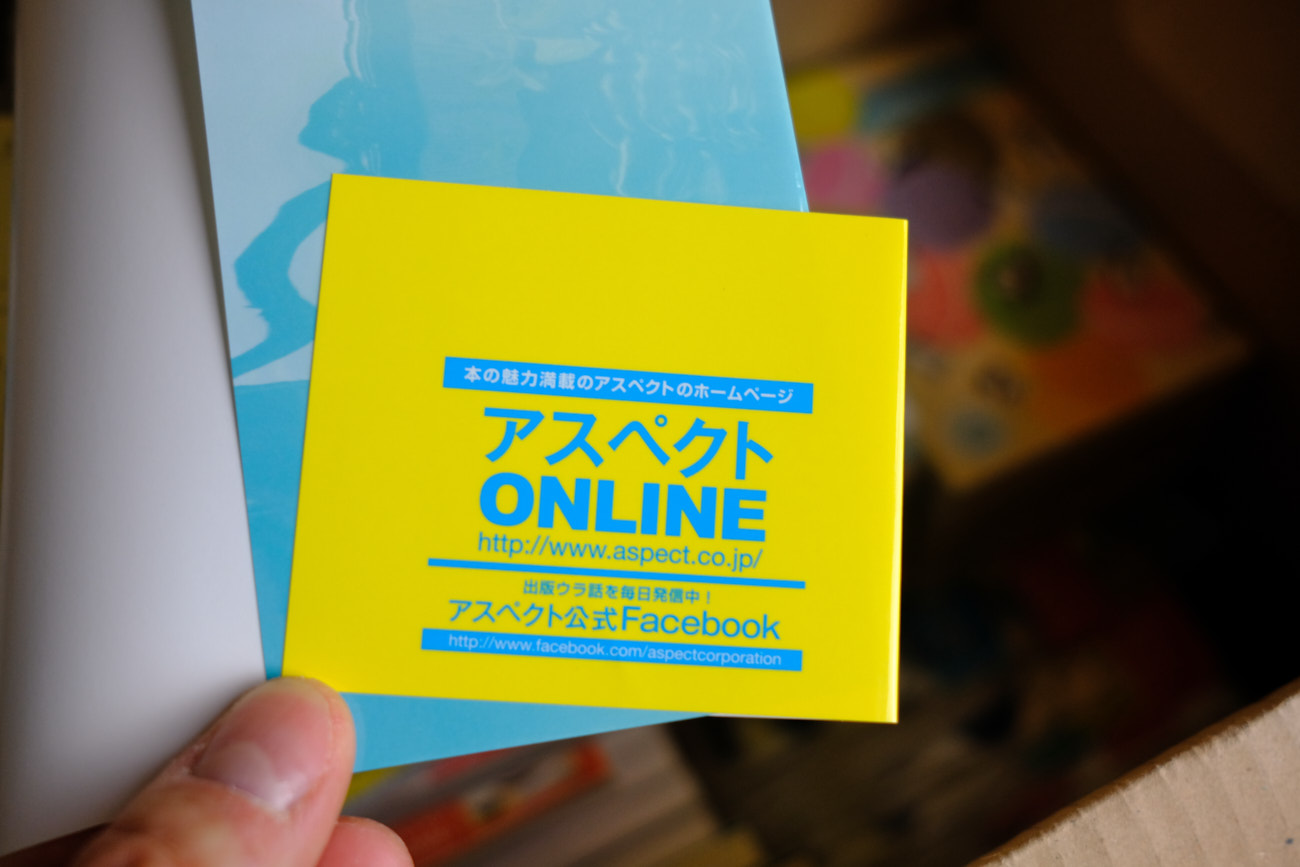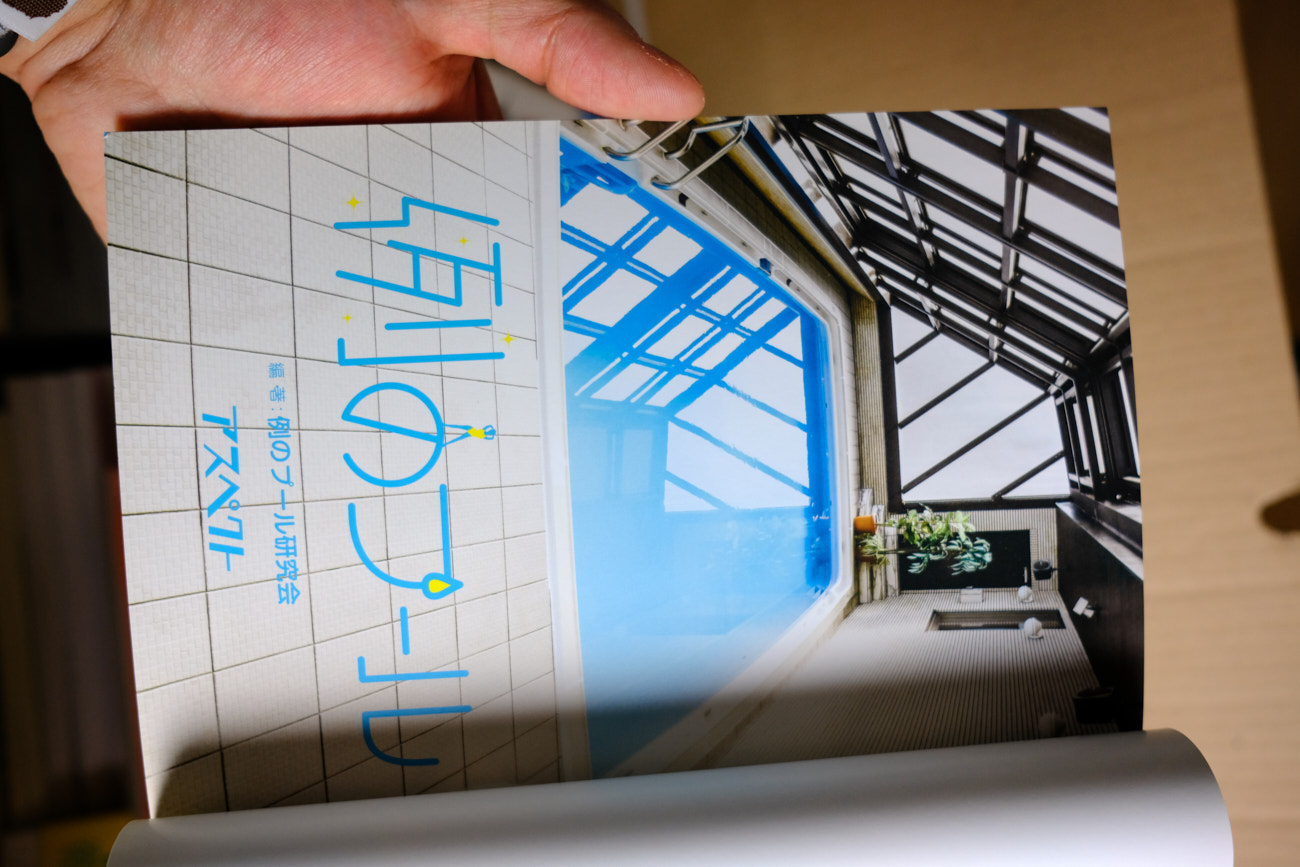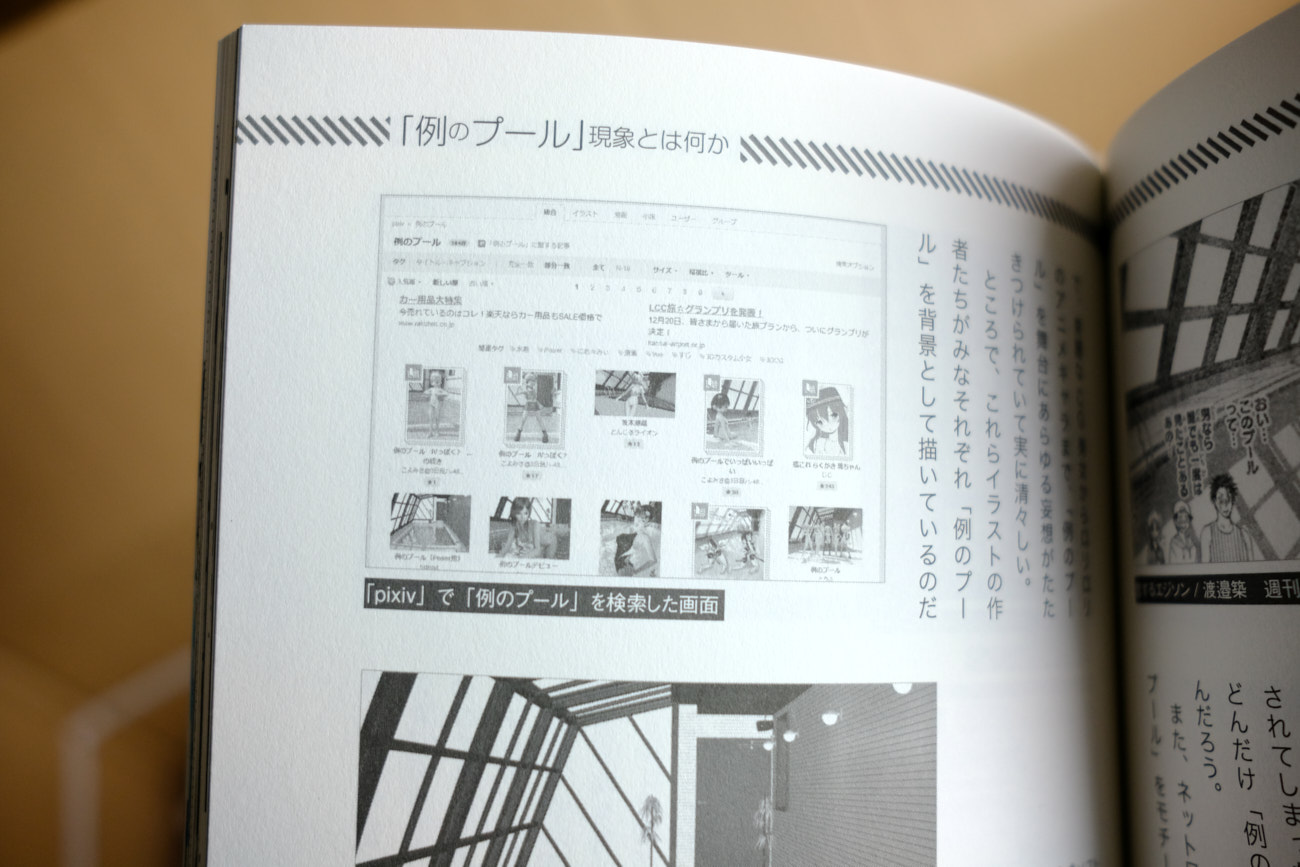 I like that they included a google image search.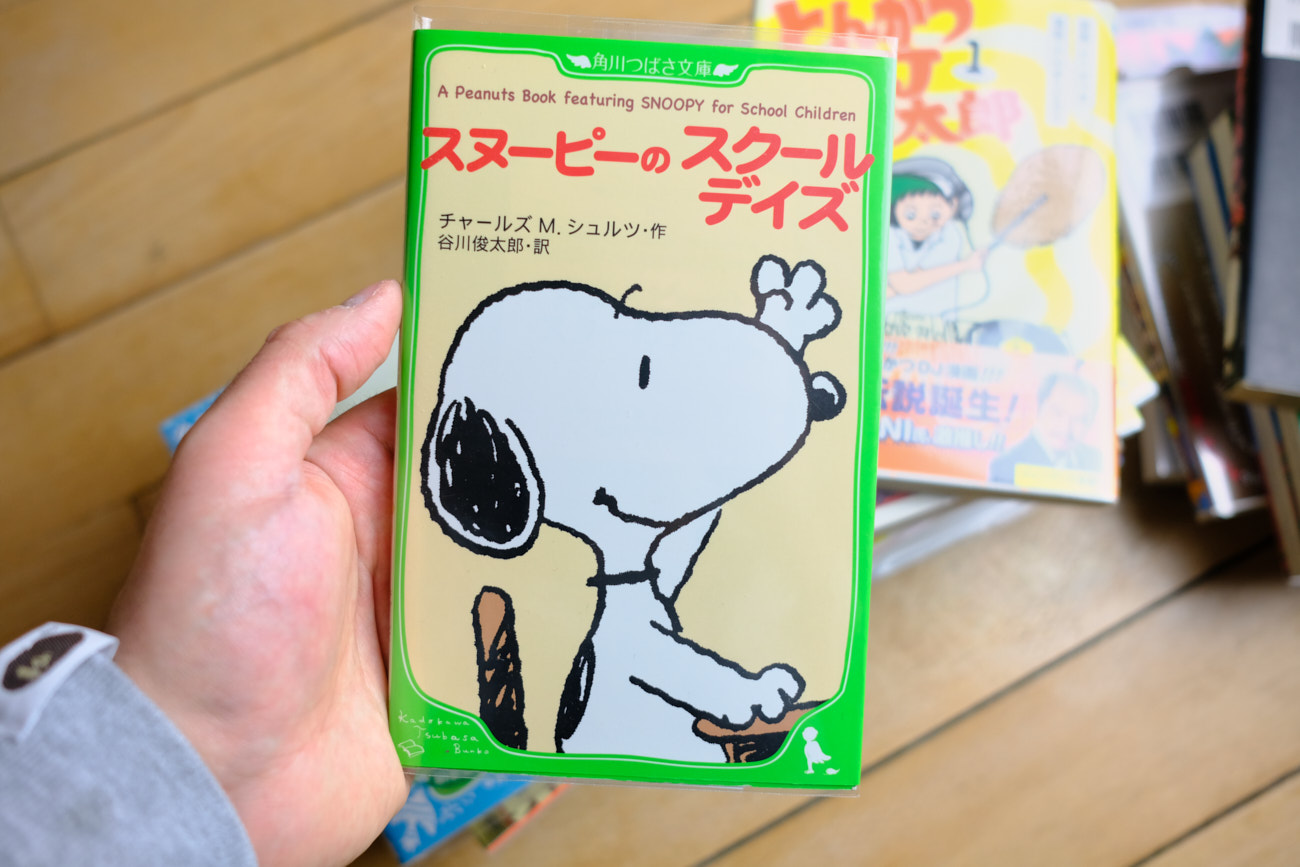 The Peanuts are often marketed towards children but are much more comic for adults. Regardless I still enjoyed it as a kid and have vivid memories of getting a huge craving for banana milk while watching Snoopy making some obscure milk drink in a blender (I belied he was making banana milk as well).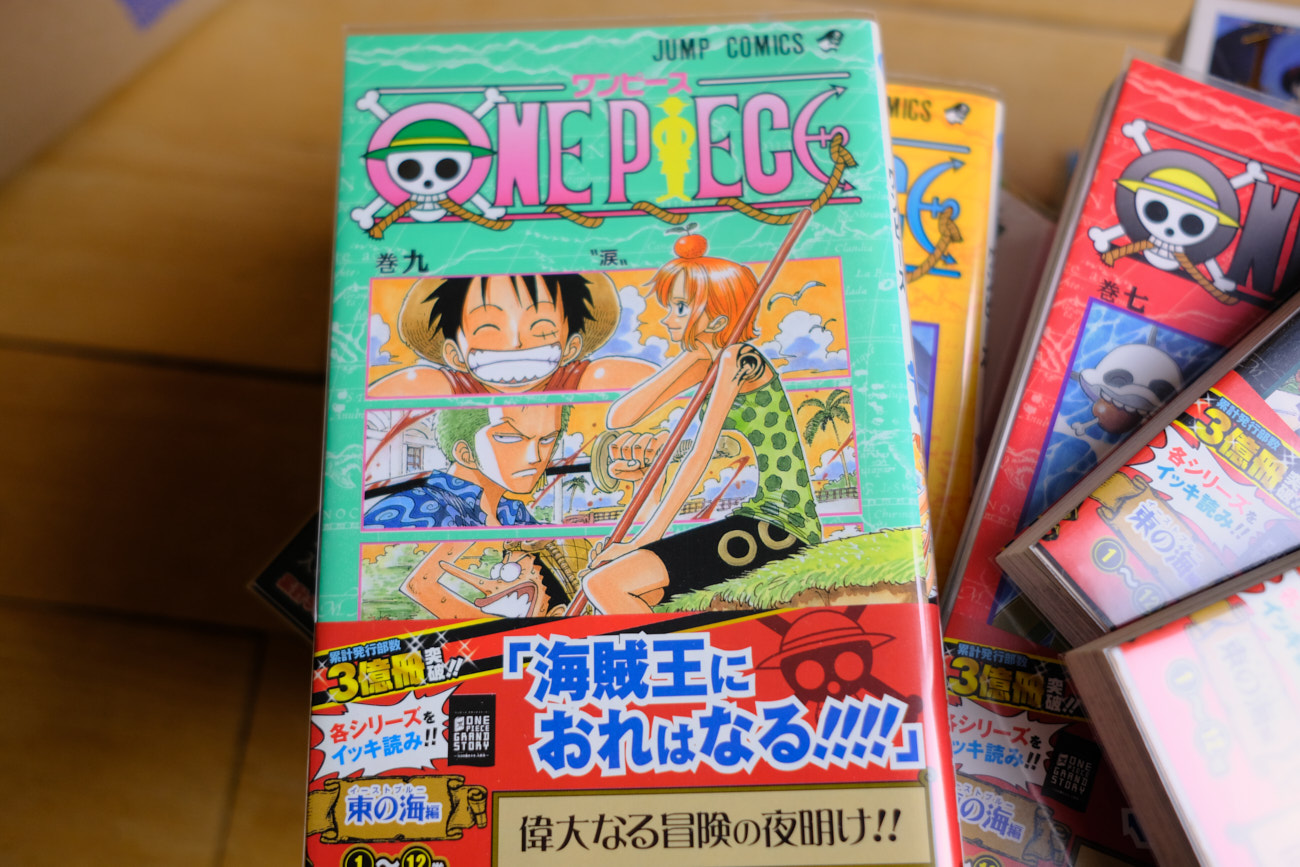 More One Piece and so more books I didn't read. I always thought that some day I would really dig One Piece. Guess that will never happen now but that's ok.
Chi's Sweet Home is a classic from my Japanese manga for beginners list. Still unbearably cute and still a great choice for everybody starting out to learn and read Japanese (because there really isn't a lot of text in it to start with and who doesn't love cats, right?).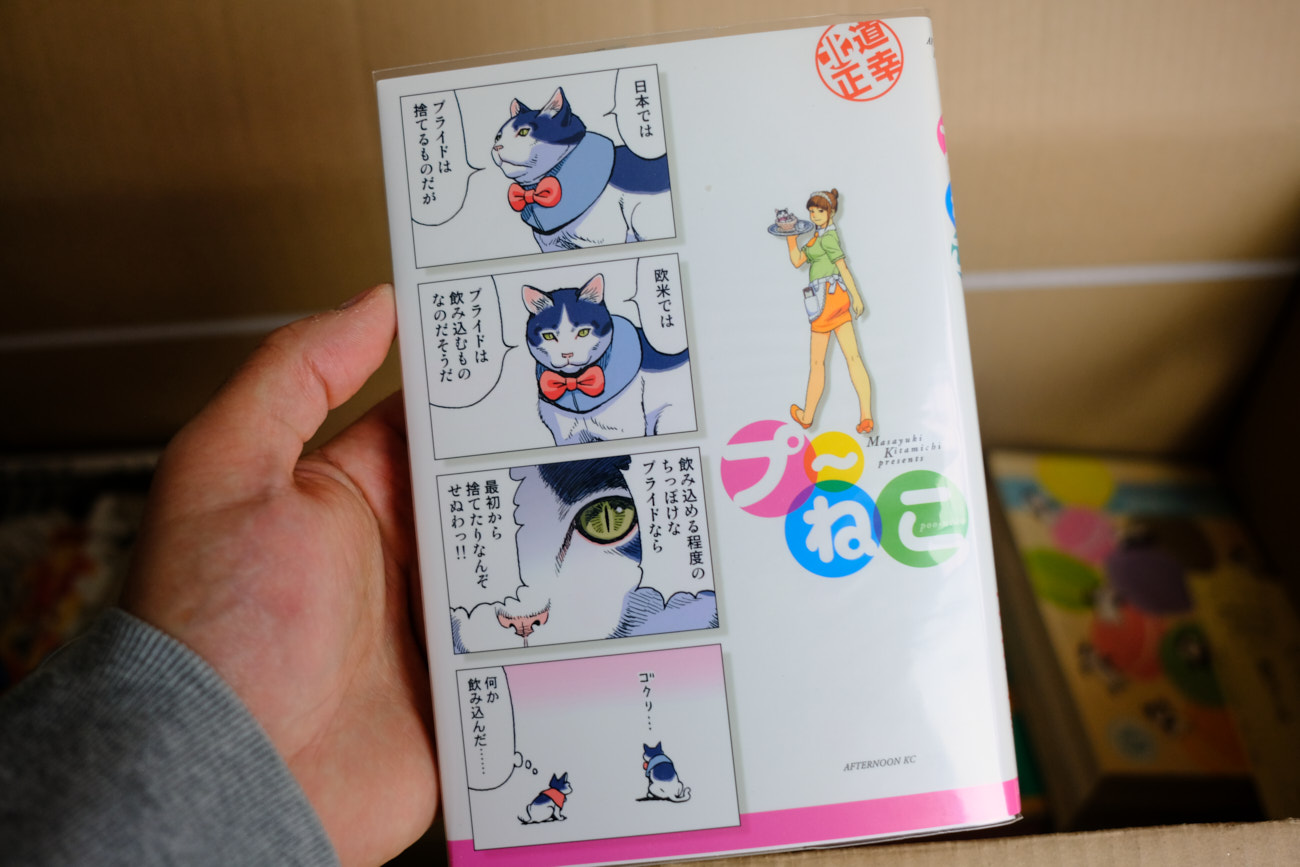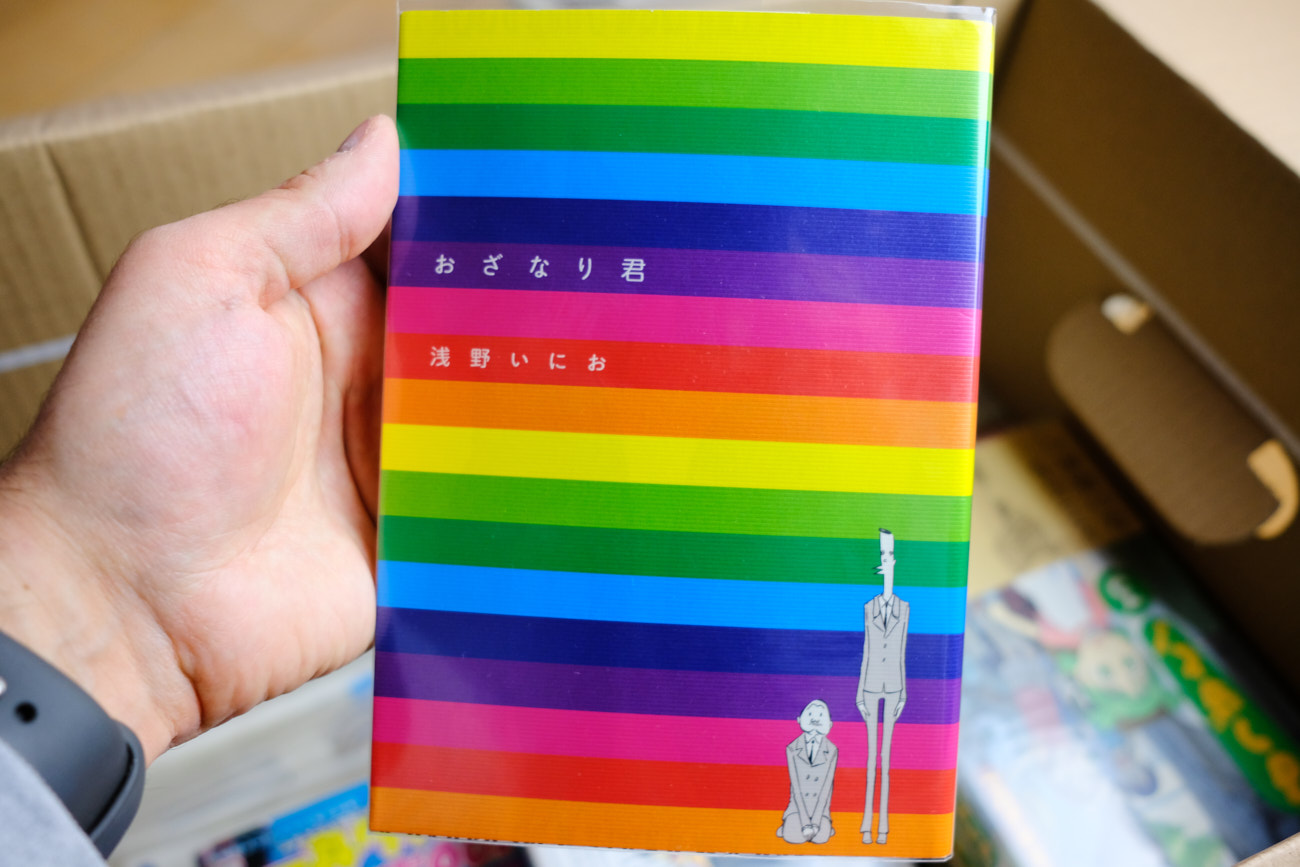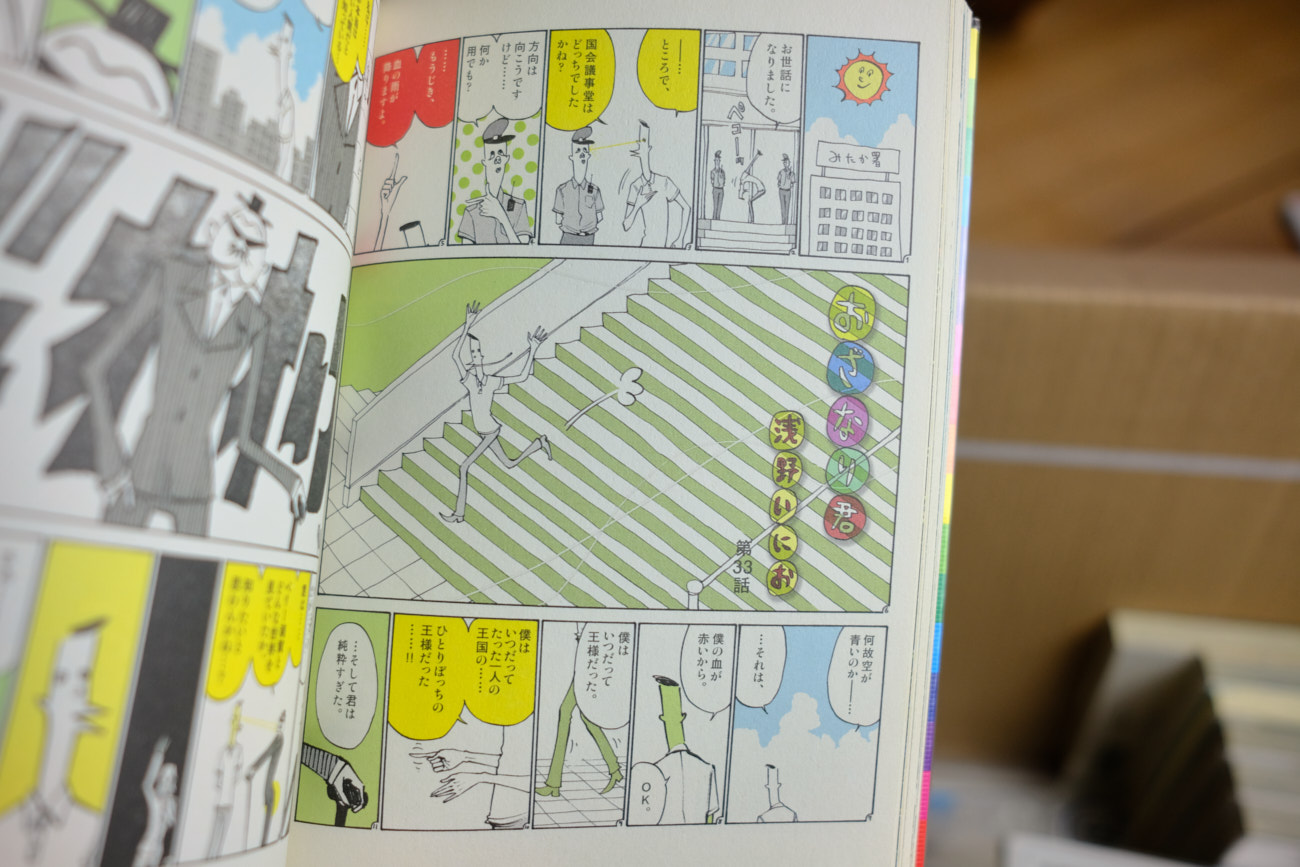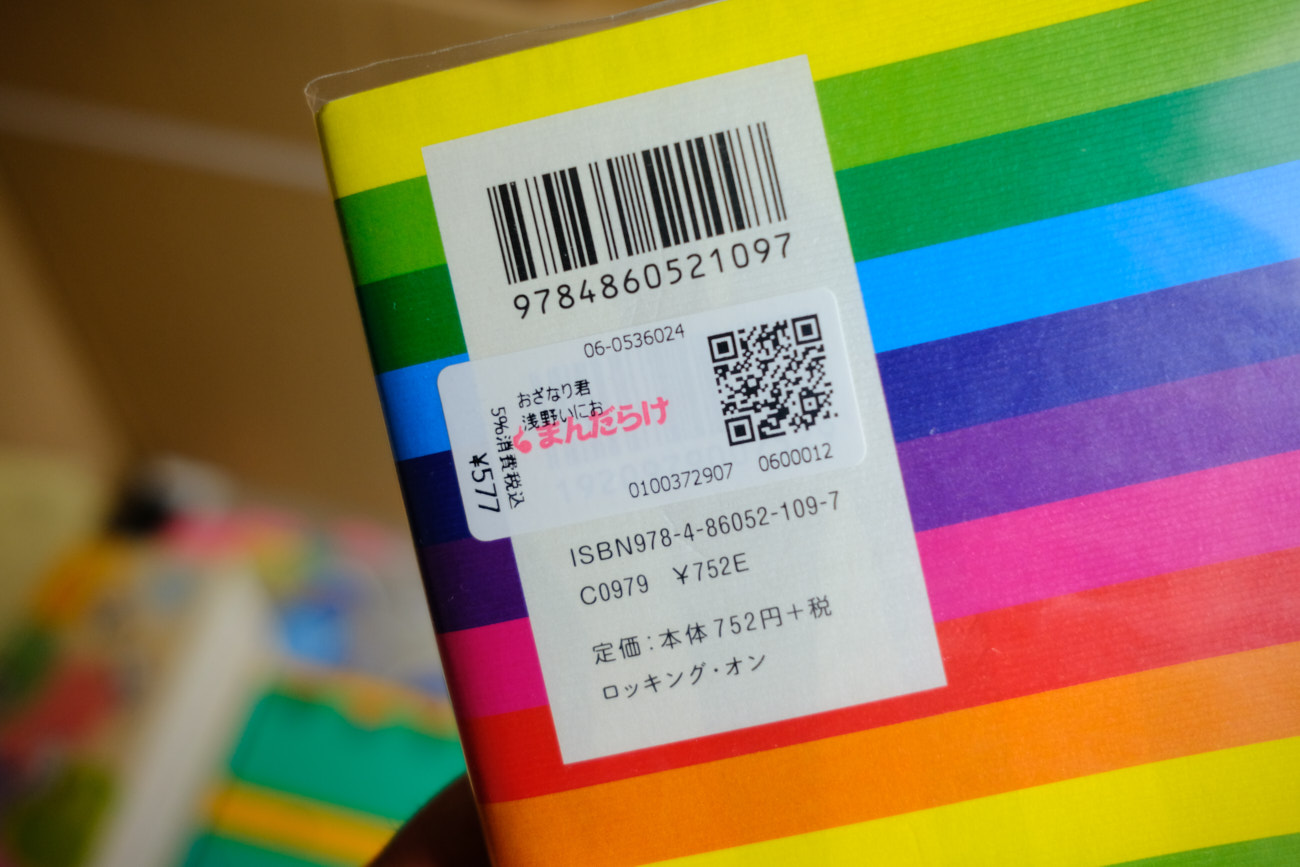 Bought at Mandarake in Tokyo. To be perfectly honest with you: I only bought it for the great cover artwork.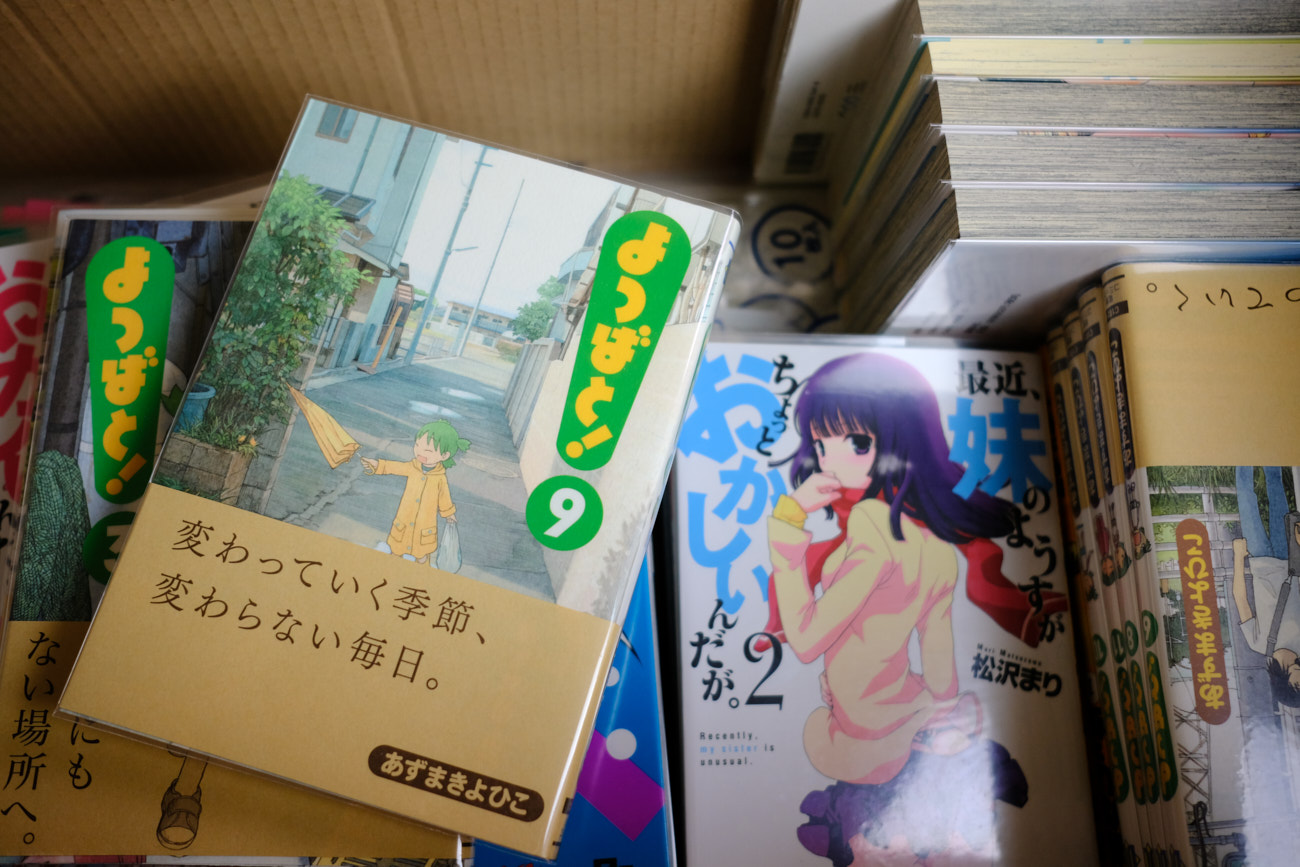 The other classic of beginner manga. Yotsubato. I tried reading it from issue one again but failed. Maybe I'm just not having the attention span anymore. My plan for 2020: Get a nice lamp for my night table and start reading more.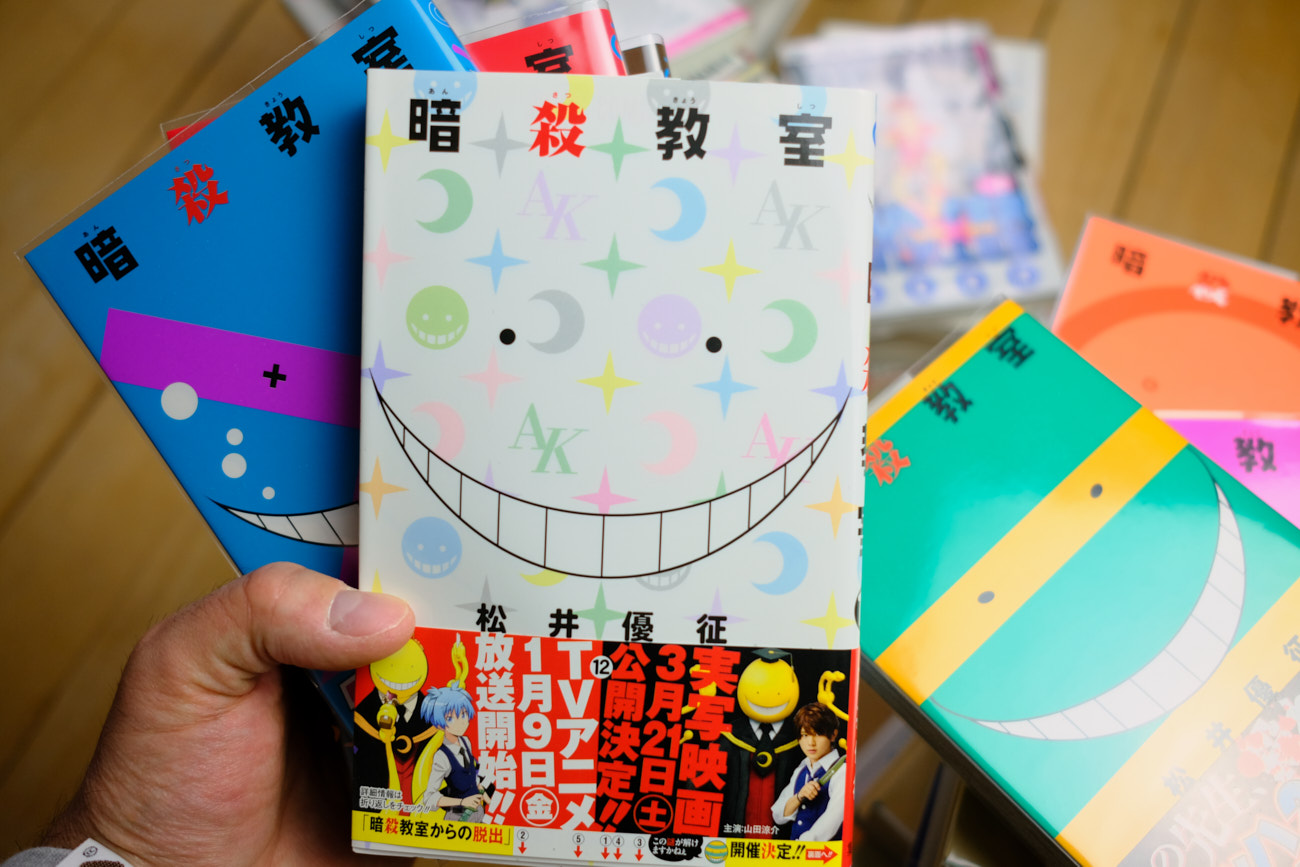 And again: A book I bought solely for the great cover art. The manga is mediocre at best. The basic plot idea about a teacher that teaches killing and is the ultimate target is intriguing – but the drawings are not great and it's just dragging along after some point.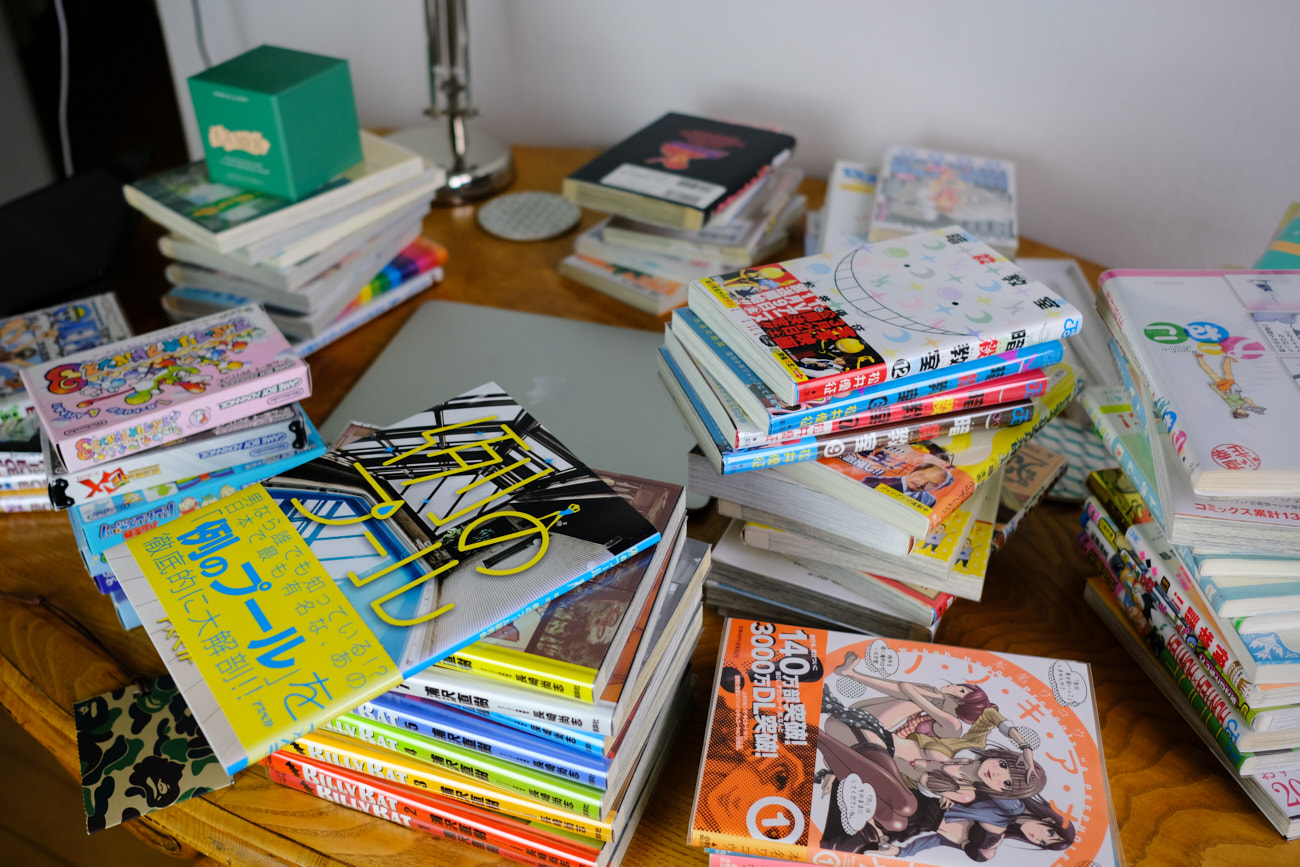 The whole mess. And it's just a small fraction. There is much more packed away.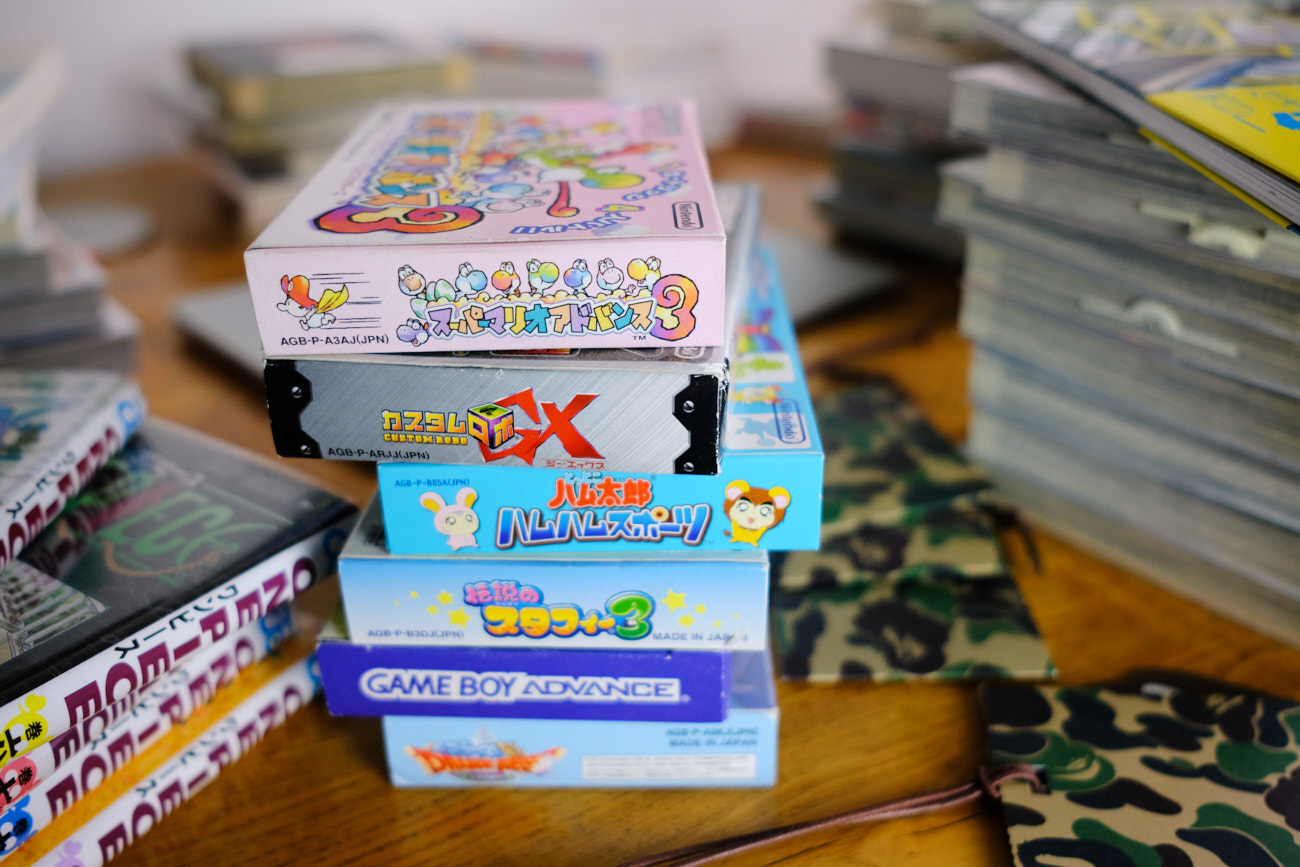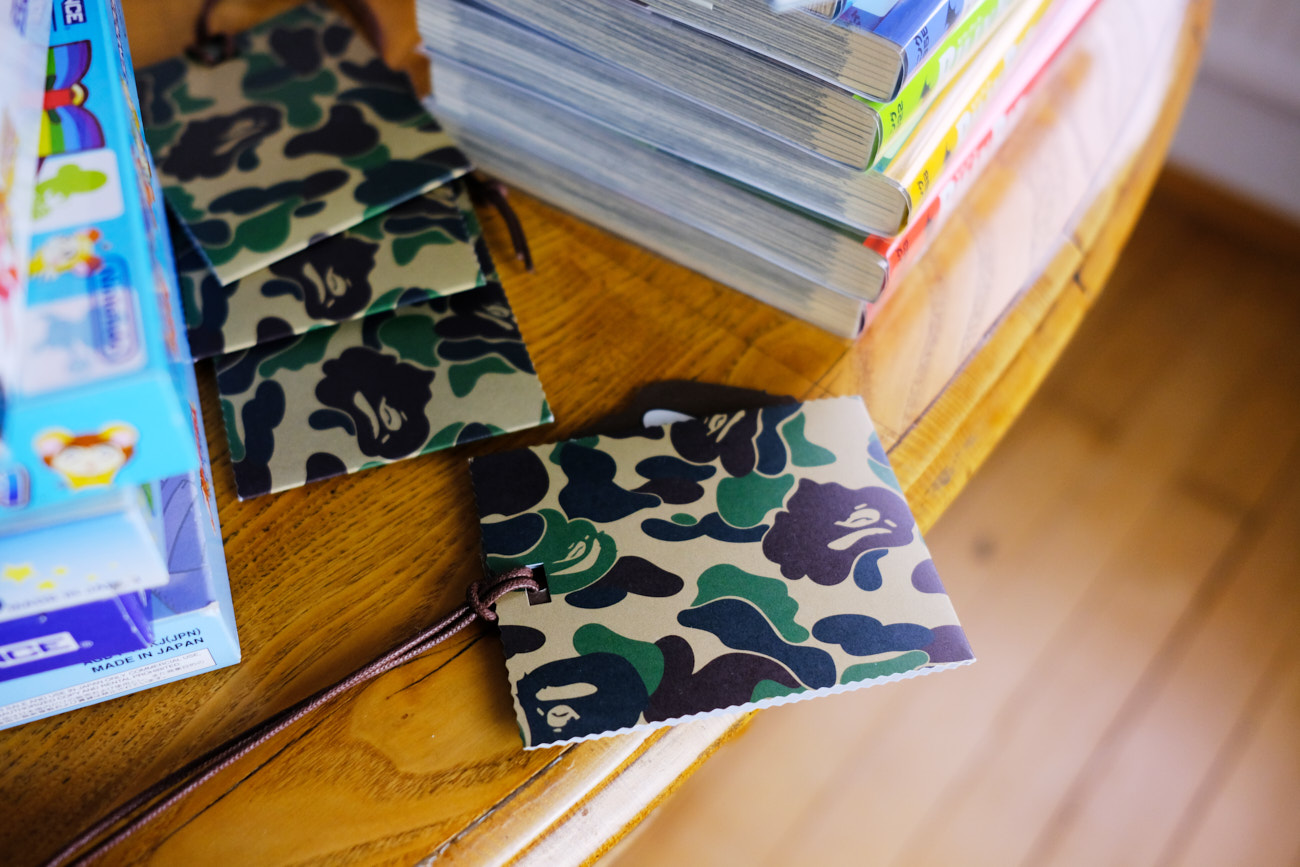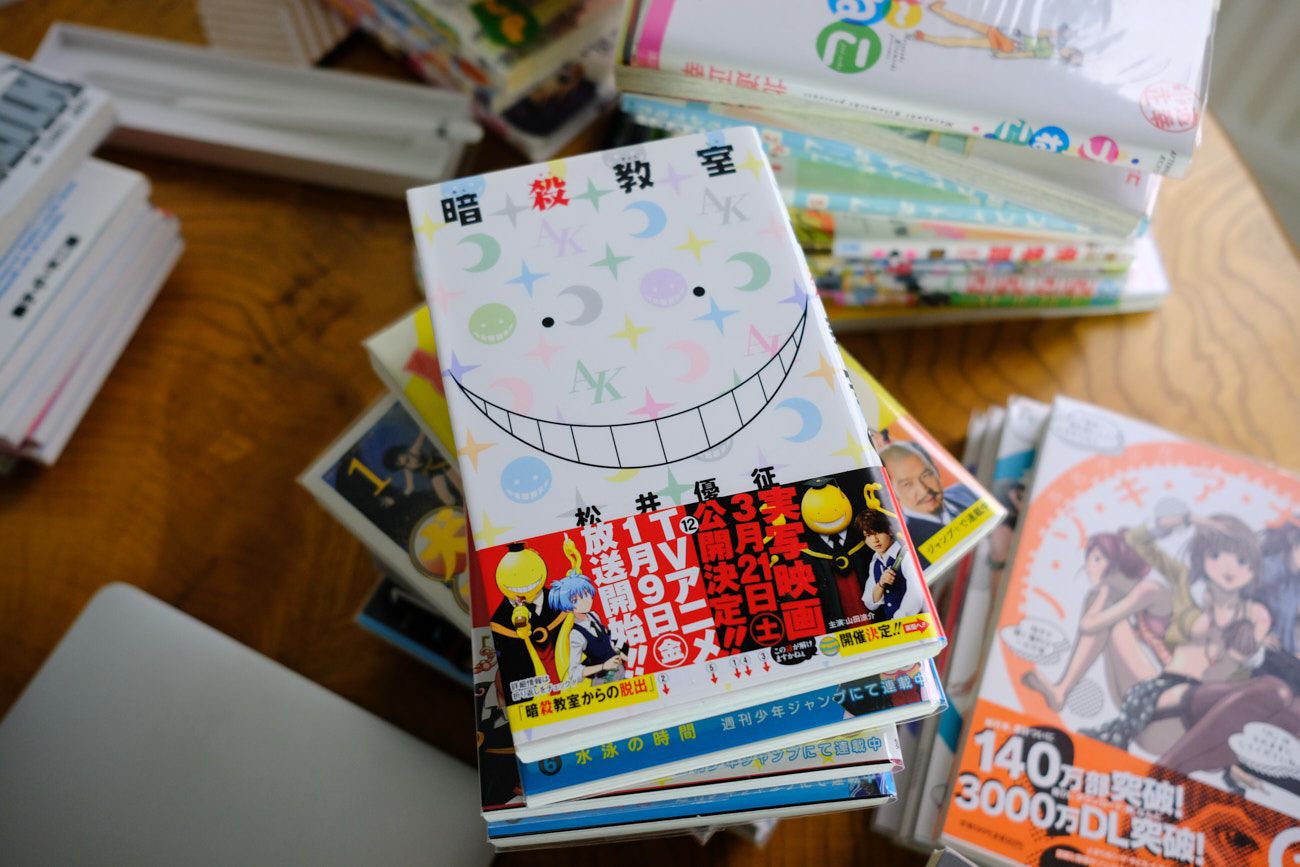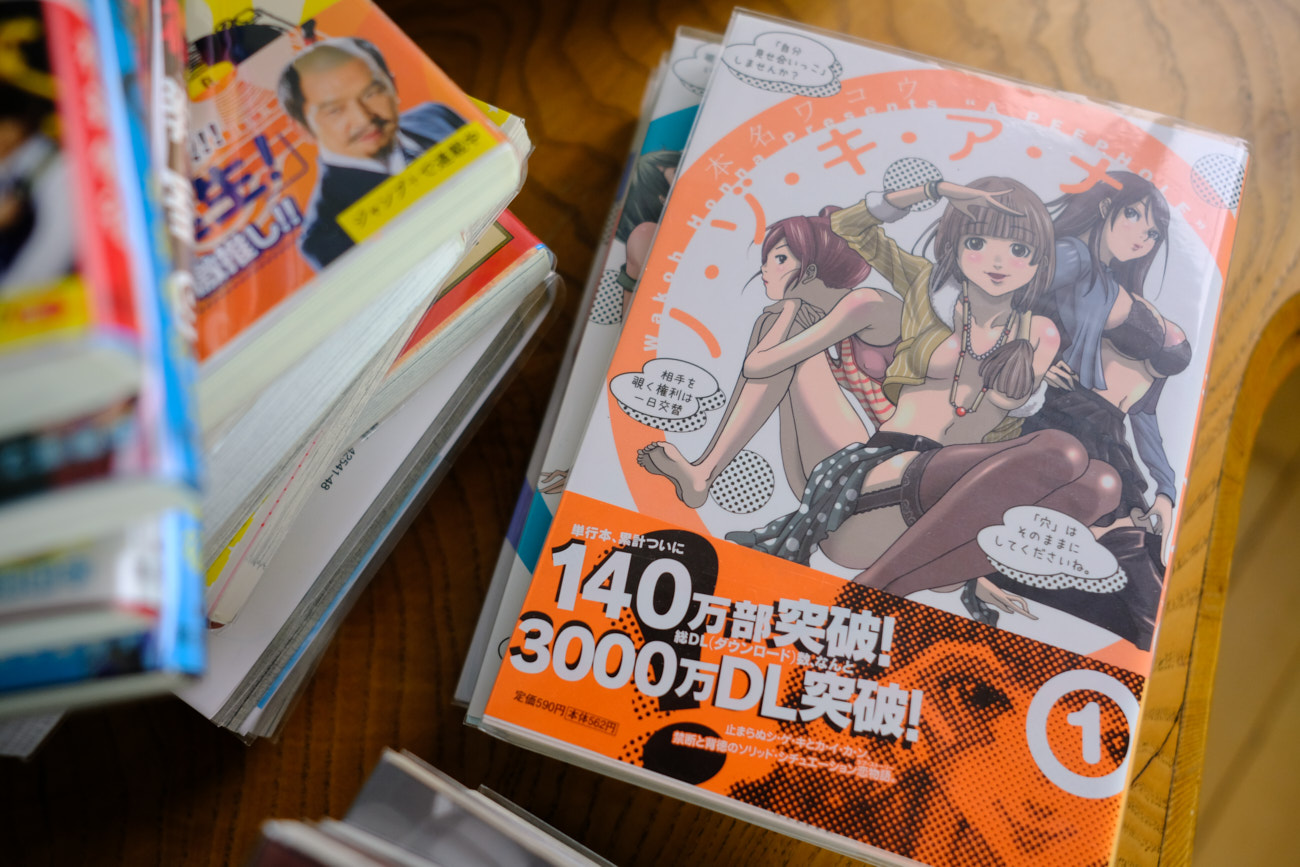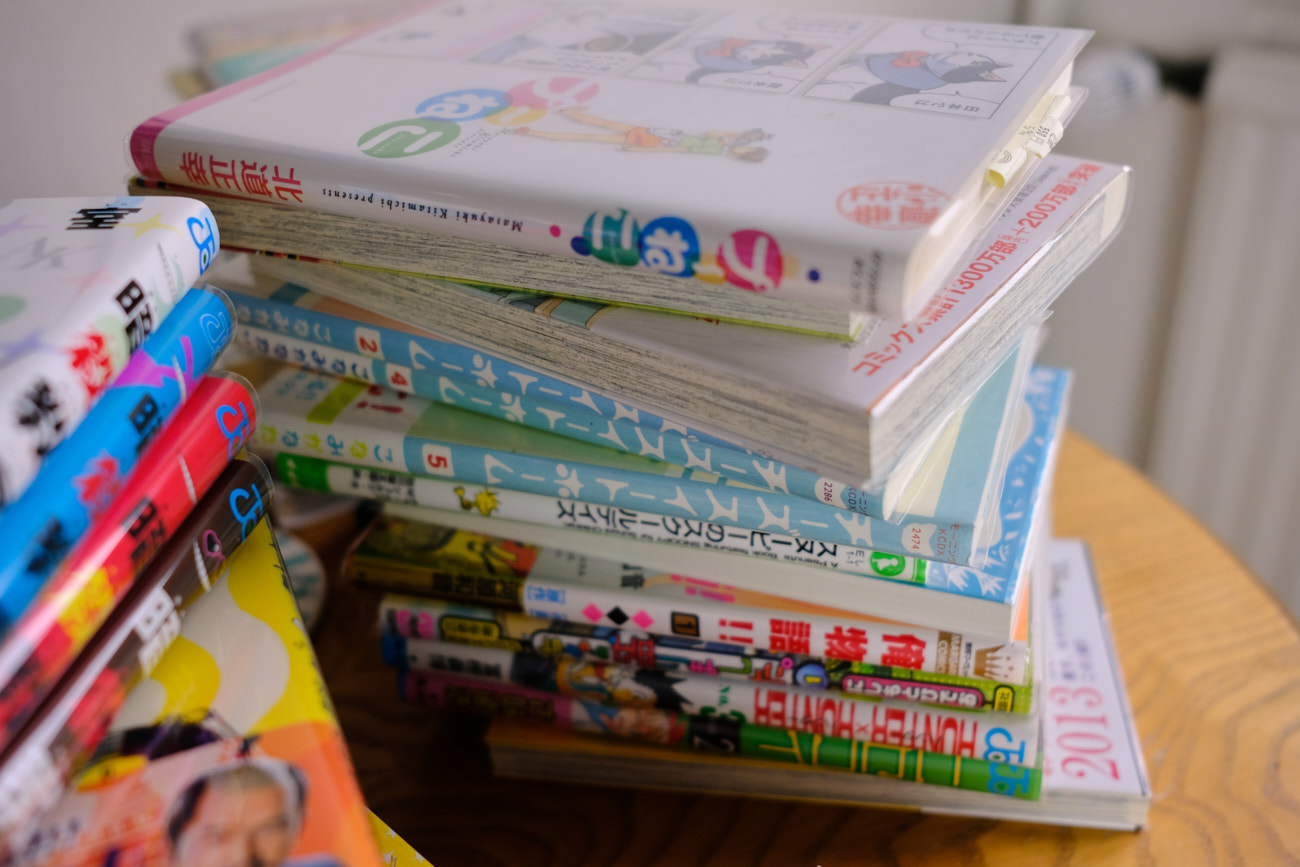 ---
I hope you enjoyed sorting through some manga together. Stay healthy, stay home and give me some tips for great movies and TV shows to watch. Is Watchmen (HBO) any good? I'm reading a lot of very mixed reviews.