Studying Japanese as a self-learner is a long journey. Especially when you have a full-time job or full-time studies that demand your full attention. I'm learning for two and a half years now. On and off with very busy months learning Japanese (and completely burning myself out over this) and months where I can't even keep up with my Wani Kani studies. But it's probably the same for most of us.
Learning Japanese is a hobby that can be a pretty time-consuming one. This is frustrating at times when you don't notice any real progress but it can be super sweet when you're finally able to get a couple of pages of Yotsuba& without any interruption.
If you are just starting on your Japanese journey: Check my guide on how I would start to self-study Japanese
But for me, it's still a hobby and I set my expectations reflecting this. My main aim was to read manga in Japanese, to read some magazines, and to get through Japan when I'm visiting. I never had any illusions of becoming fluent or anything like that and didn't even try to get better at my speaking/listening comprehension.
That was a mistake I noticed pretty early on and it's quite obvious if you think about it. The main reason a language exists is to communicate and if you don't absorb the unique "rhythm" of the language you're learning, you will have a pretty hard time understanding written texts as well. At least that's been the case for me. It's all about the rhythm.
When I tried to brush up on my grammar skills I used TextFugu back in the day. I'm not too enthusiastic about the website itself (even if the motivational part is awesome and always seems neglected by Japanese study books) but when I signed up I got a 25% off coupon for Japanesepod101.
A website I already heard a lot about but never really looked into. After browsing their site I pretty quickly decided to give it a try. Not only because I trust the tofugu team and their recommendations. These guys were exactly offering what I needed to complement my rather stale Wani Kani + Genki routine. Some good old-fashioned listening comprehension. (And the 14-day free trial gave me the final push).
Table of Contents
Update October 2019:
Another two years have passed. I'm now a working man and apart from using the incredible JALUP flashcards (which are now called Nihongo Lessons) not so much has changed in my daily study routine. I signed up for Japanesepod101 again to make at least some good use of my daily commute.
For intermediate learners I can highly recommend the following courses I'm currently going through again:
– Japanese For Everyday Life (Intermediate)
– Advanced Audio Blog
Update August 2017:
I'm studying Japanese on and off for about 6 years now and just started again after a long hiatus for a couple of months (due to my exams). Mixing up your study routine a little is always a good thing especially if you want to start fresh. I haven't used Japanesepod for quite a while but just re-subscribed a couple of weeks ago and am still amazed by their great content.
The hosts are doing their job well and every lesson is perfectly scripted with a nice mix of grammar, new vocab, and a rather interesting storyline that continues through each season. I don't always read the lesson notes but it's already enough for me to just listen to one or episodes when I'm on the go and get some quick Japanese lessons while driving to university or going for a walk.
It was always my aim to update articles on this blog to keep them up to date, nothing changed much for J-pod but I still wholeheartedly recommend them to every Japanese learner. If not only for little tidbits like "おーい" which I read over and over again in よつばと the other day and just heard an explanation for it in a Japanesepod101 episode.
The website, the app, and the pricing
When I first clicked the link to head over to Japanesepod I was a bit skeptical. The website somehow looked a little sketchy to me especially because of all these different languages to learn which are advertised in the lower right half of the landing page. Reminded me a little too much of Rosetta Stone and we all know how great their Japanese "training" is.
All this "learn Japanese fast" talk didn't sound very trustworthy to me and the "polished" subscription prices did the rest. When they are talking about 4$/month for their basic subscription this only applies if you prepay for one year. If you want to get a monthly payment, the price doubles.
8$ is still alright and a good price for the huge amount of content they're offering but still. Make the prices more transparent. Otherwise, it gives most people a bad feeling right from the start even if the actual product is pretty awesome.
When. I first signed up for Japanesepod101 about 1,5 years ago you could only use their podcasts and notes on a computer or tablet. Or let's say comfortably use.
Nobody wants to handle a clunky website on their phones, not when trying to learn as well. Another negative point in this regard was that I love listening to podcasts on the go which wasn't possible without an internet connection before.
But all that changed with the release of their App. You were now able to comfortably download the podcasts on your phone so you wouldn't require a steady internet connection to listen to them.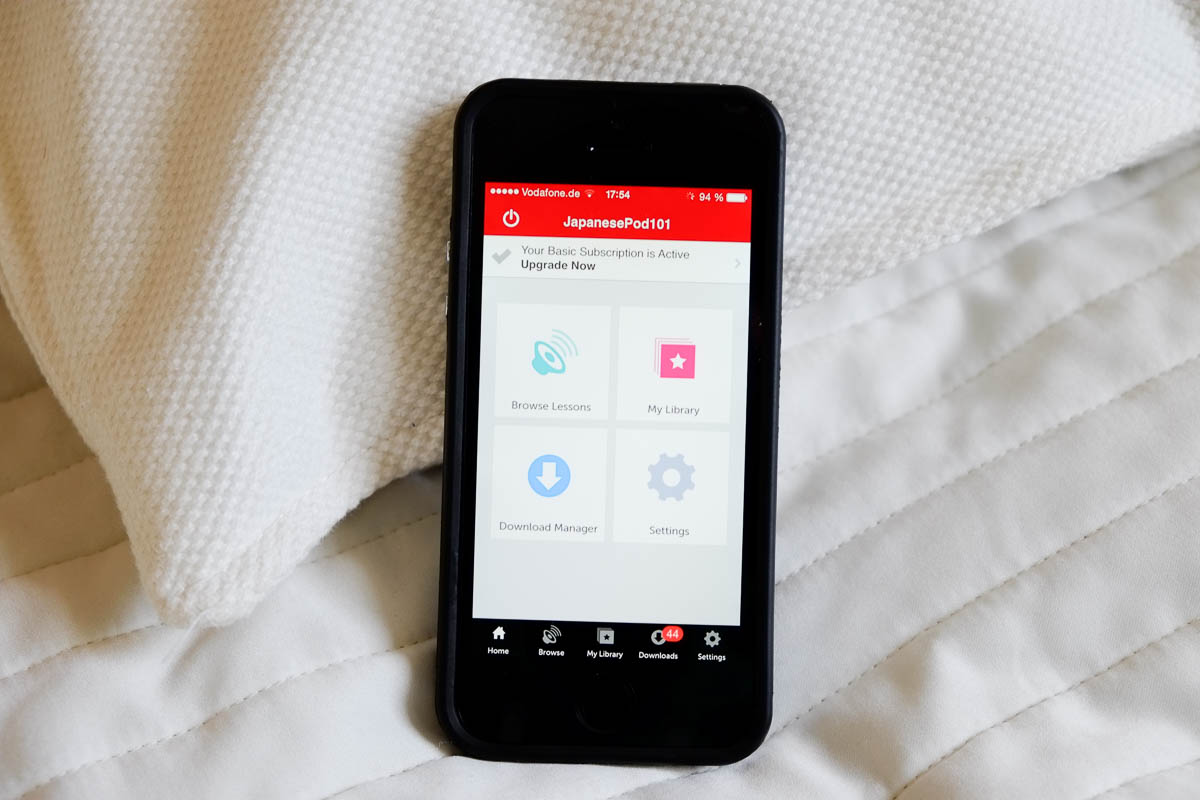 The different podcasts are categorized after the difficulty of the content and for every learning stage, there is already a huge amount of material available.
I'm still listening to the Beginner podcasts but I'd say there are a couple of hundred podcasts in total. I just received my new Phone and am downloading two Beginner levels. 5 and 5 to be precise.
Both consist of 25 episodes but earlier levels contained much more than that and occasionally surpass the 100-episode mark per level.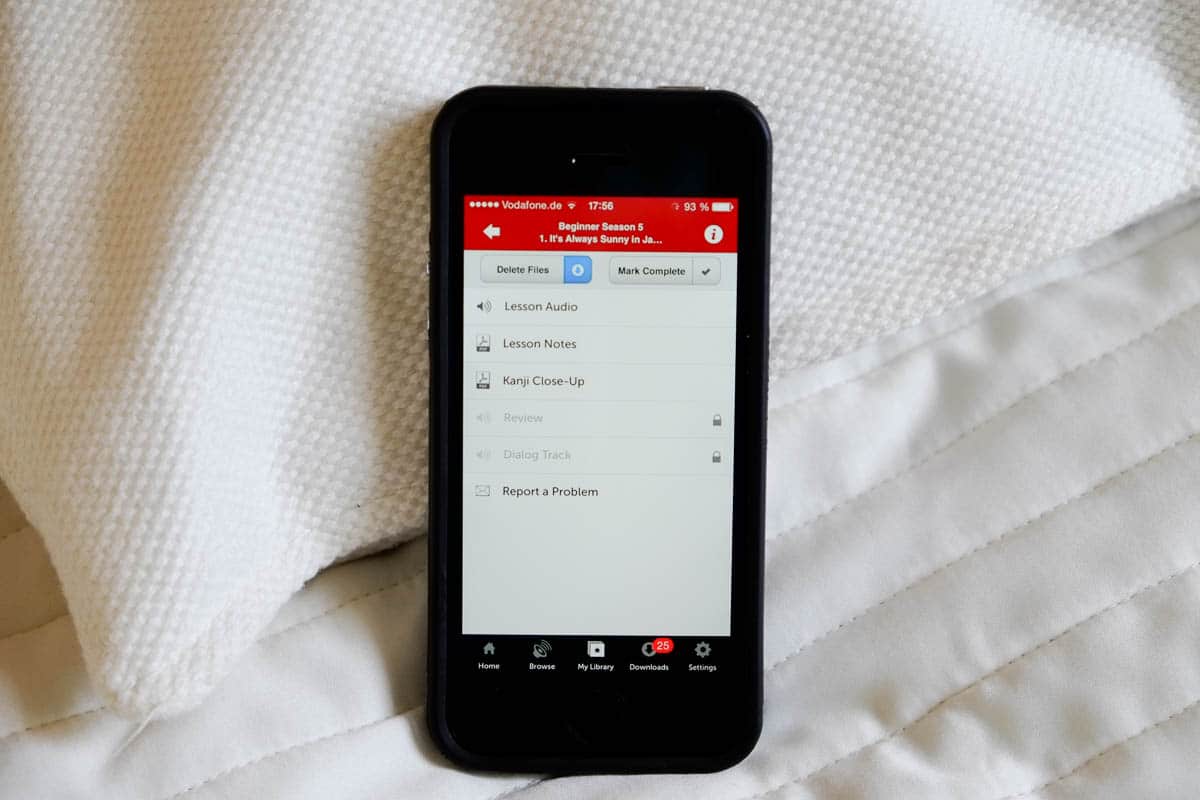 And that's how it looks inside an "episode". When you're feeling super diligent you can read along with the dialog with the lesson notes.
I'm just paying for the basic subscription (which is more than enough for me. Just want the podcasts) that's why I can't comment on the review and dialog track features that are still locked.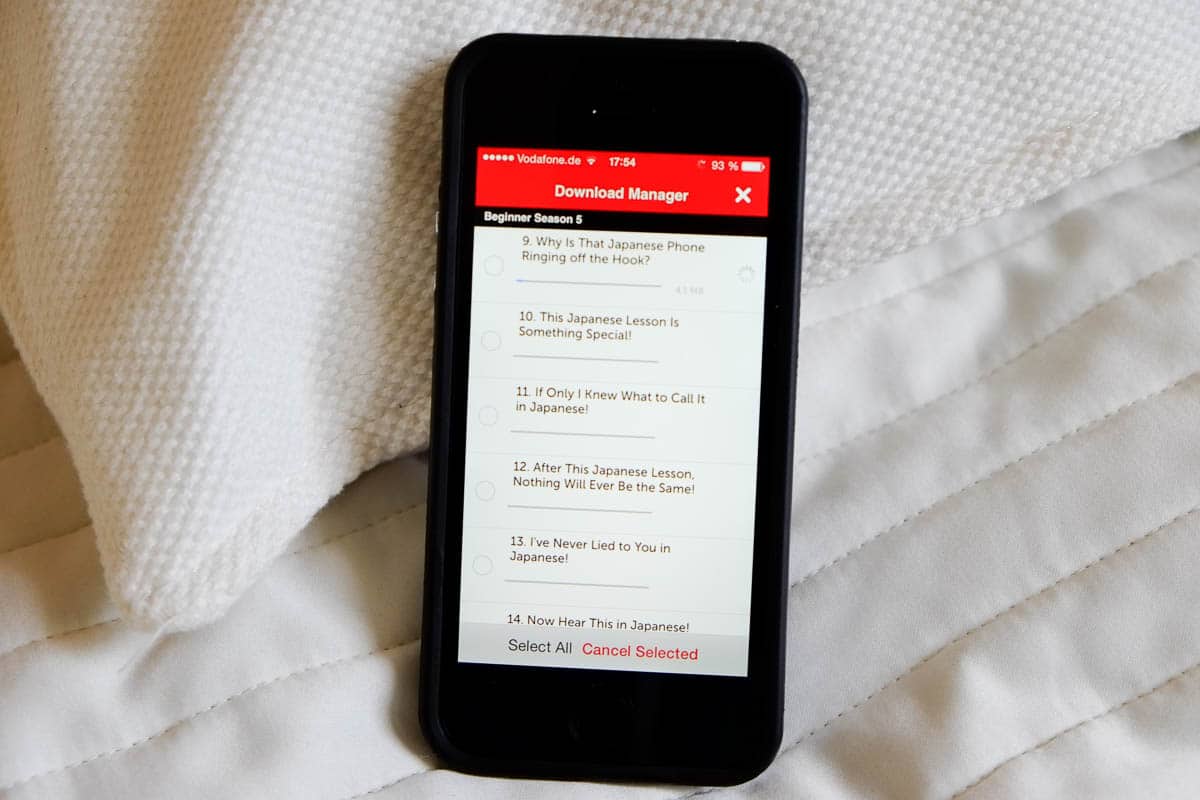 Let's finally talk about the Podcast itself
And hands down. It's awesome. Each episode is around the 15 minutes mark and very well scripted. It's always a small dialog with two different speakers which is discussed afterward.
There is usually a specific grammar point used in the dialog which will be explained in the discussion as well as the vocabulary of each lesson.
And that's what I like about Japanesepod101 they're talking about the small Japanese dialog as if a Japanese newbie would be in the room with them but without trying too hard.
The speakers for the dialogues are always Japanese natives so their pronunciation is flawless but the discussion is led by the man behind the podcast, Peter Galante. He is fluent in Japanese and as a big bonus, as an English-speaking native, you will get perfect explanations of all the different grammar points and vocab.
I'm currently listening to the Beginner level where he is usually having the discussion part with Natsuko Kawamoto. It's great to have her giving explanations of Japanese words and grammar points and to make things perfectly clear Peter sums things up in between.
Every speaker so far has done an incredible job. What's so great about this mixture is that you get some "inside knowledge" about the Japanese language and learn how you would express something but also why another expression wouldn't be used in a specific context in Japan.
It's the same in every language. You can learn a lot of vocab but without having any experience of how people are talking in the country you couldn't possibly know which term to use casually and what's been "the shit" five centuries ago.
Really, consider me a Japanesepod fan. The episodes are scripted throughout. There are no holes in the conversations but nonetheless, it's still a very "light" conversation with an occasional joke in between.
I just feel comfortable listening to the podcast and virtually hanging out with the team.
What to expect from using Japanesepod101
Using Japanesepod101 alone and expecting to learn Japanese from it would be a little naive but as a supplement to have among Wani Kani and Genki, I can absolutely recommend it. And you should know by now that I only recommend the stuff that I love and use daily. Or better: Would love to use it on a daily basis

Coupon Codes (links attached)
30% OFF BASIC, PREMIUM & PREMIUM PLUS
The link above contains an affiliate link, so if you want to support the site just make your subscription using the link. It's always highly appreciated and really helps to keep the site running.
Subscribe here
Please let me know your thoughts about the podcast. Are you using it as well?