About two years ago I purchased one of these small boxes from Japanese graded readers. Each one contains several small booklets with short stories in Japanese. The good thing is that the stories are graded after their difficulty and even beginners can experience the exciting feeling of actually reading something in Japanese. Manga can be tough with all that grammar, vocabulary and slang. When you're just starting to read some stuff in Japanese it can be rather frustrating.  You only understand half of everything (if at all) and constantly looking up words is not fun either. But I bet we all know the feeling.
Back then I bought the first レベル0 package and was quite happy with it. The stories were easily digestible and quite fun to read. The series wants you to just keep reading and guess unknown words from context. Small colorful illustrations on each page make this very doable. All in all: I really loved these little boxes  (they looked nice too) and I'm not quite sure why I didn't buy more of them. Maybe that was the time when I started to get into buying manga in Japanese.
Good news for all Japanese learners: White Rabbit Japan apparently made a deal with the Japanese company which is publishing the Japanese graded readers series (Ask Publishing) to release each story digitally. The price point is 3,59€ for each little book which is quite alright considering that each story contains full audio by a native speaker. At the end of each story, you can find a flashcard system with which you can practice some of the words (not quite sure how they are selected) fro the story.
The Kanji (and furigana above) look spot on sharp on my retina display. It's really a joy to read. Thus far I have only bought one レベル02story 二つのパン and found it rather easy. Will try out the only available レベル03story and will see how that goes.
The only negative point so far: Each story is one app with the exact same cover by which show the White Rabbit Japan bunny. They should work on this, maybe even consider one app where you can download each little booklet individually. But this shouldn't discourage you from buying one of these, highly recommended and well worth your money. The best part: You can just easily download these from the US or EU App stores.
If you still want to go the physical route, just head over to cdjapan where every volume is available for a mere 2,300¥.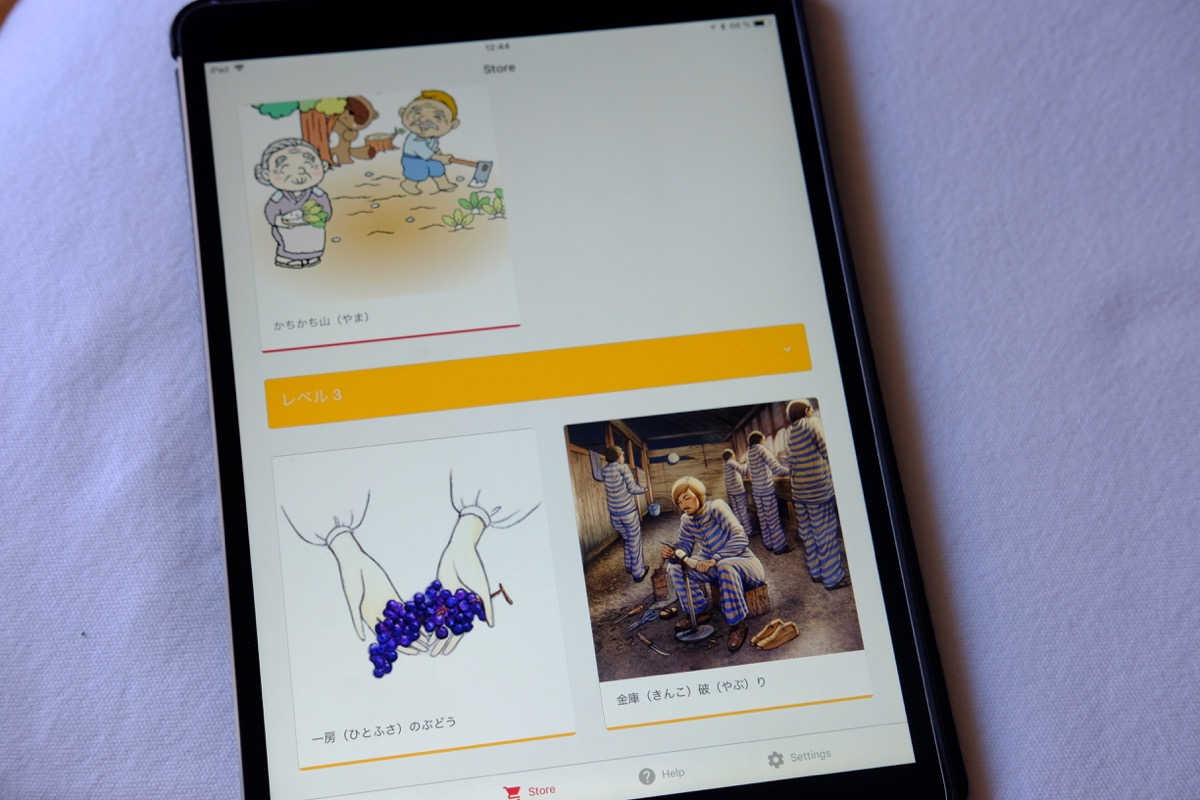 Update July 2018: Meanwhile the individual Japanese Graded Reader Apps,  which contained one story each, were pulled from the App store for almost two years (if not longer).A little disappointing because the idea itself was a neat one and the Apps worked quite well. But don't worry. You're in luck. White Rabbit Japan just relaunched the digital form of the JGR and made the good call to just make one App which would house all the stories you'd eventually buy. Unfortunately, the selection is still very limited. But at least some stories are now available digitally again. (Android / iOS)