I've stopped learning Japanese (and never tried WaniKani before) for over a month now. Not because I lost my interest in Japanese or Japanese culture, you probably know the feeling when you're just a little lazy sometimes. I went to Marseille, France for a week together with my girlfriend and we had a wonderful time there. It's a beautiful country and especially the south with the good weather and the food was pure bliss in late August. What most people from abroad probably don't know is that France and Japan share certain similarities and interests.
Both countries like good food and beautiful books. Many Japanese publications like cookbooks and comics are nowhere available abroad except in France. In terms of the huge manga selection that is available in France, people like to refer to the "French exception". Because it's the second biggest market for manga and comics.
After Japan, of course. I picked up the first three volumes of Master Keaton by my favorite manga artist Naoki Urasawa. And even if my French could be far better I still really enjoy these short amusing stories which are far deeper than one would think after reading a couple of pages.
For a short moment, I thought that I should focus on learning more French but after two weeks I neglected that thought. I shouldn't stop learning Japanese just because it would be more simple to learn or perfect another European language. It's always been my dream to understand simple, conversational Japanese on a basic level and that is a goal that one really can achieve.
While reading different manga the Kanji was always some kind of a problem. Sometimes more, sometimes less. But I reflected on my Japanese skills today and concluded that I should focus on learning some Kanji. And learn them with their on Yomi and kun yomi readings.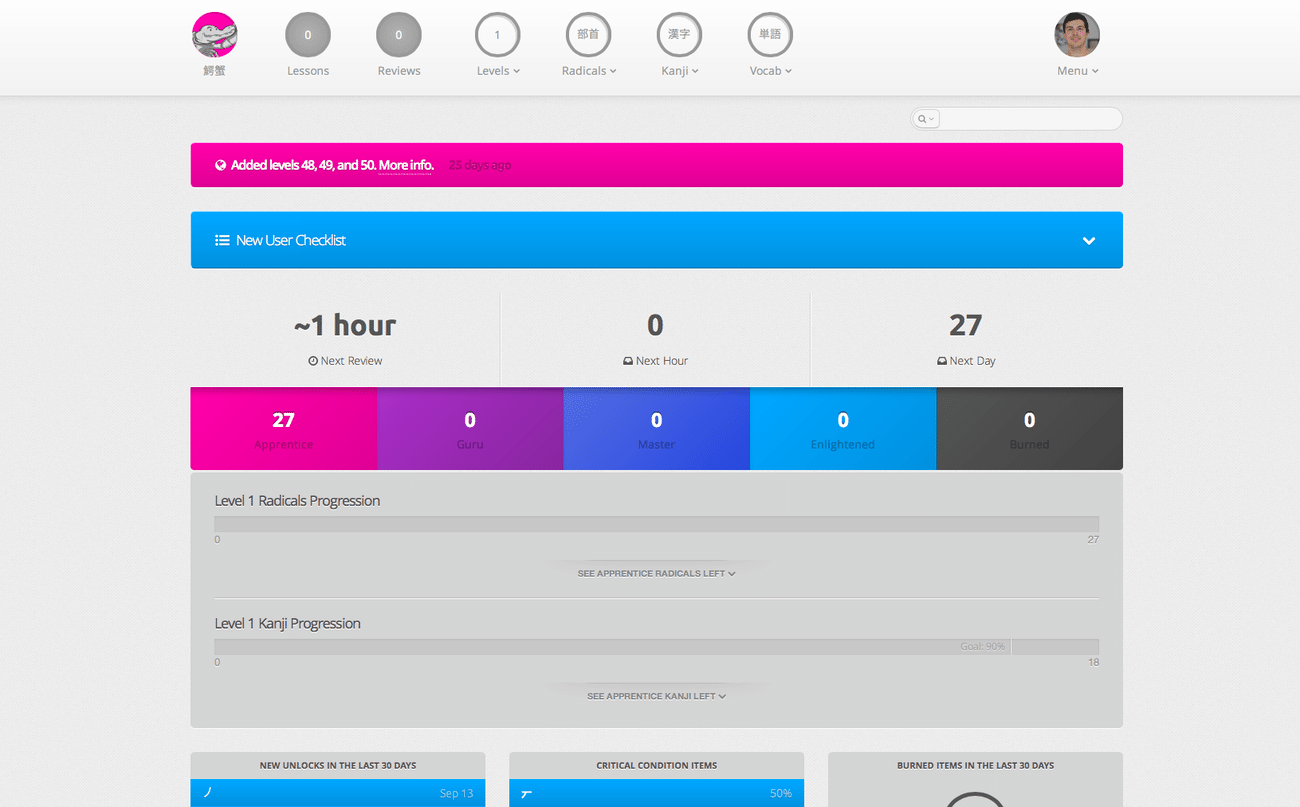 A friend of mine always spoke so highly of WaniKani a website by the mighty tofugu-team who already made a virtual textbook called textfugu. Their new site should make learning kanji and vocabulary a breeze. I already had a quick look around WaniKani a few months back when I was still using the Heisig method for learning kanji and concluded that WaniKani is practically a rehashed, more polished version of Heisig. But I was so wrong. WaniKani is far more than that.
You have to input each word or radical by yourself which makes the memorizing process even more intense. Sounds silly but I think it's a really big thing. Apart from that, you learn the different readings and actual vocabulary for the learned Kanji which is oh-so-important.
Honestly, I'm hooked and biting my ass that I didn't start earlier with WaniKani. Japanese video games were a small factor in why I wanted to learn Japanese in the first place and I'm probably not the only one with this as a motivational background. The guys over at tofugu like their video games as well and made the genius decision to make learning Kanji and vocabulary more like playing a video game. With different levels to reach, lots of statistics to look at, and a tight community to connect with. Well done boys!