There are a few situations where you feel a sudden urge to read some manga in Japanese and the only thing that you are carrying is your mobile phone. But if that should ever happen, god forbid, you will know how to tackle the problem. I download digital manga in Japanese every once in a while to try out new titles and really enjoy the short previews you can download for free as well.
Yesterday I felt that certain manga itch again and I instantly knew that I should probably download a new manga for my Ipad. It's just nice to read some stuff in Japanese right before sleepy time but proper lighting is always a problem when I try to read in my bed.
And there comes the iPad with its glorious backlit screen which solves all my problems. I've been readings lots of comics on my iPad including the recent issue of Invincible (Loved the hell out of this series). I can assure you that the great vivid colors and zooming options can come in quite handy for us Japanese learners especially if there are some Kanji in some of these super tiny Jump manga.
But beware: The resolution, if zoomed in, isn't all that great. I prefer to read Jump manga (which are usually released in the tiniest manga format possible) with their physical versions.
What I love most about reading digital manga is obviously the ability to read the stuff on a well-lit screen but I tend to forget how super comfortable it is to download nearly any reading material in seconds. No waiting, click the button, and it's there.
Table of Contents
If you're looking for physical manga check my guide on where and how to buy manga and books from Japan!
Buy digital manga and ebooks at amazon Japan
Lately, I've become quite the Kindle reader. I was mostly a guy into collecting and still enjoy a well-made physical book. But reading a digital manga or ebook definitely has its merits: I really use the underlining feature a lot and was even considering using a service like Readwise or Clippings to collect all my marked passages in one place for easier consumption.
In the end, I didn't want to pay for a dedicated "highlight exporter" but might be using it once or twice a year. Regardless of this I'm still a big fan of my kindle paperwhite and love it for reading ebooks. For comics and manga, it's not an ideal choice. because of the low-res screen and I much prefer my phone and iPad for this.
How to make a Japanese Kindle account at amazon Japan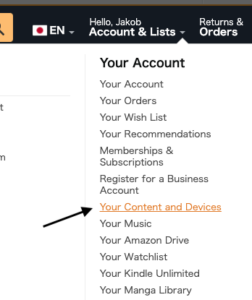 Buying digital Japanese manga for your Kindle App is quite easy and straightforward once you set everything up.
Make an account at amazon Japan your European and US/CA accounts won't work there. The process is straightforward and everything is in English. If you already have an account you need to set your device location

to

Japan

so that you'll be able to buy ebooks from amazon Japan.

Go to Your Account –> Your Content and Devices
Go to Preferences and change the Country/Region Settings to Japan.
You need an address in Japan

to link to your device.

You don't have to use this address for anything

so just picking one from a quick google search works fine.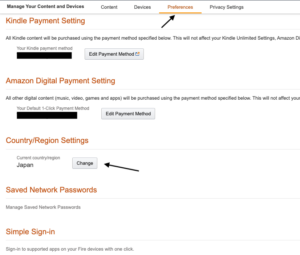 You can also sign up for a service like Buyee which provides you with a Japanese address that you could you for their proxy shipping service (I'm using fromjapan for my proxy purchases in Japan but that's another post).
You did it! You can now finally buy Japanese Kindle manga and ebooks from amazon Japan.
Watch out for promotions that are held quite regularly and can be found for many titles. Amazon JP has a point system that can be worth it, especially for digital titles.
The iOS Kindle Apps are great for reading Japanese manga
Each Kindle and Kindle App can only be tied to one amazon account. I'm using my Kindle Paperwhite for my main Amazon account and downloaded the Kindle for my Japanese account on my iPad.
This way I profit from the high res resolution on my iPad and circumvent the account issue.
Unfortunately, most Japanese manga are pretty low-res and can't be compared to high-end digital comics like the ones which were sold by Comixology (which was bought by amazon and after integrating the App into amazon itself the quality of the comics went downhill. But that's another story). The quality is fine though but not as great as it could be.
The reason for the bad quality is that many Japanese publishers fear piracy and want their printed products to have a "premium feel" against their digital counterparts.
Regardless of this regarding Japanese manga digitally on iOS devices has many benefits. My workflow is this:
Make a screenshot of a page with an unknown word
Import that screenshot into the Nihongo dictionary (bulk importing coming soon)
Go through all the words you don't already know and attach that screenshot to the dictionary entries
This was just a quick overview of my workflow
Buy digital manga at the Japanese iTunes store or honto.jp
If you're an IOS or OSX user you can buy nearly every manga at the Japanese iTunes store. Creating an account is easy (just search for a guide online) but the Japanese iTunes store (like every iTunes store) only accepts native Credit Cards. This means that we have to rely on gift cards which are always more expensive than their real value. (if you're still looking for some) But here comes the solution: honto.jp, again. The best shop for buying real copies of your favorite manga series sells digital versions of nearly every comic. The selection is huge and the prices are always a bit cheaper than their physical equivalent. Here is a quick list of how to get started.
1. Make an account at honto.jp
2. Get yourself a Japanese iTunes account
3. Download the honto.jp IOS App (available for Android as well)
You can then easily purchase every digital manga as you would do with a real book order. When you've done this, you open your honto App, connect it to your account and start downloading the manga which you bought directly on the honto website. Works like a charm.
I'm especially fond of all these so-called color editions カラ版 of popular Jump manga. The coloring just looks gorgeous on a screen and is really a nice addition. These are slightly more expensive than their "normal" versions but the money is always well spent. You probably all know that I'm not that into Jump manga with the exception of the exceptional Dragon Ball. But I even gave One Piece a second chance with its colored version and suddenly I love it.
Of course, this is not all due to the coloring of the manga but it's really something that makes me consider re-buying some of the stuff I already own and want to read again.
Honto is currently hosting a promotion that will give you 200 points on each 1000¥ spend for all your digital purchases. Not a bad time to start getting into digital manga, if you ask me. But hurry up, the deal expires in a couple of hours.
立ち読む lets you try before you digitally buy
Lately, I've been checking out the Japanese iTunes store a bit more. The honto App is still the place where I buy the manga if I want to have something very quick but I love to take a peek at the Japanese iTunes store first. There is a pretty nifty feature which is called 立ち読み which means reading while standing and refers to the people in Japan who are standing around in the bookstores and reading.
It's nice to have a sample before buying just to check out the art and get a quick feel for the title. This has always been the biggest flaw when buying from honto because their 立ち読む feature is not very practical. You can't even buy directly from inside the App. But for this, I've found iBooks in conjunction with the Japanese iTunes store to be pretty comfortable.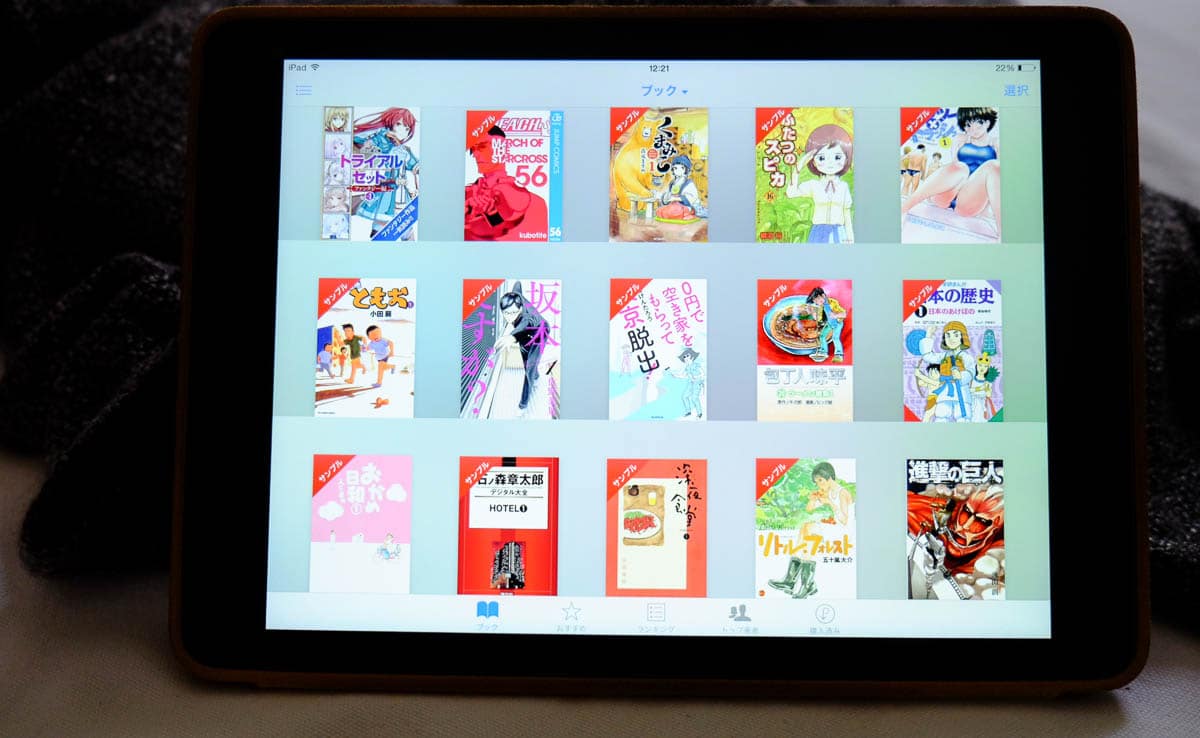 This is inside the iBooks App on my iPad. Every title with a red ribbon indicates that it's a small sample. Usually between 10-15 pages. After that, a button appears that quickly lets you buy the whole manga. Unfortunately, this is only possible with a Japanese credit card or with some credit in your iTunes account.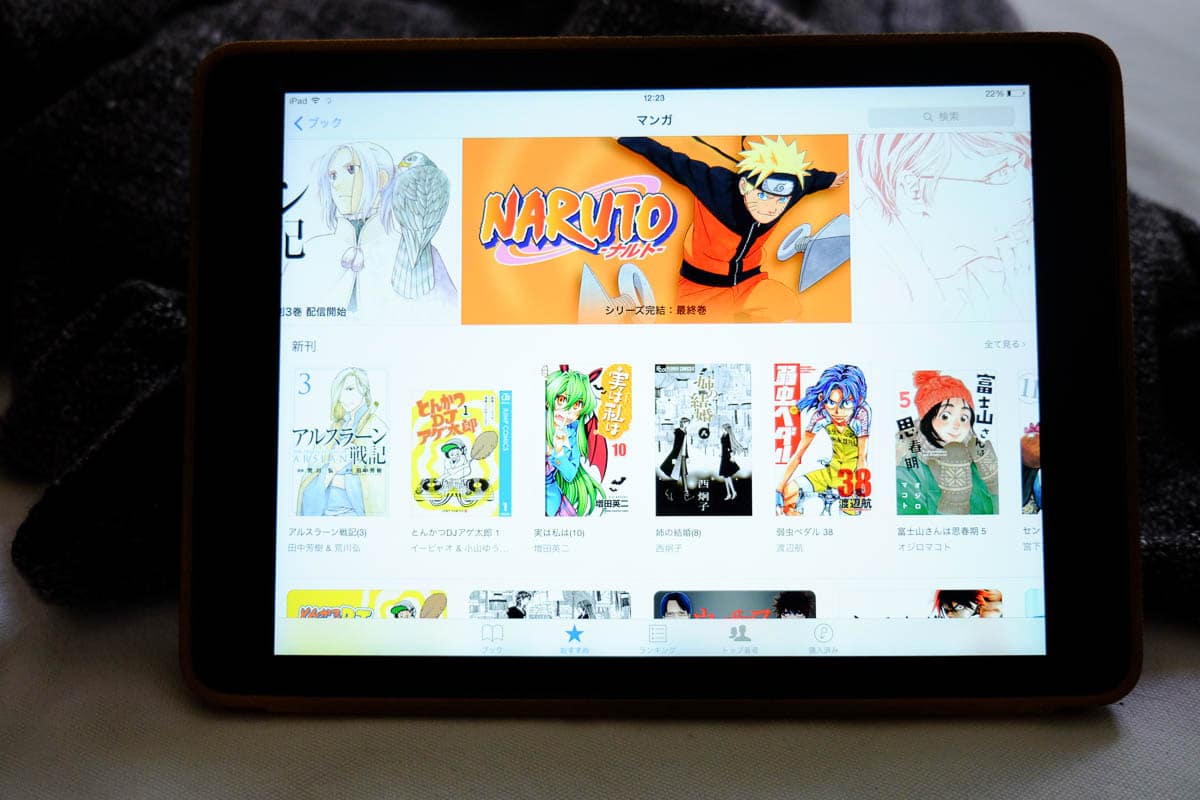 The selection is huge. Even more than on honto if I'm correct.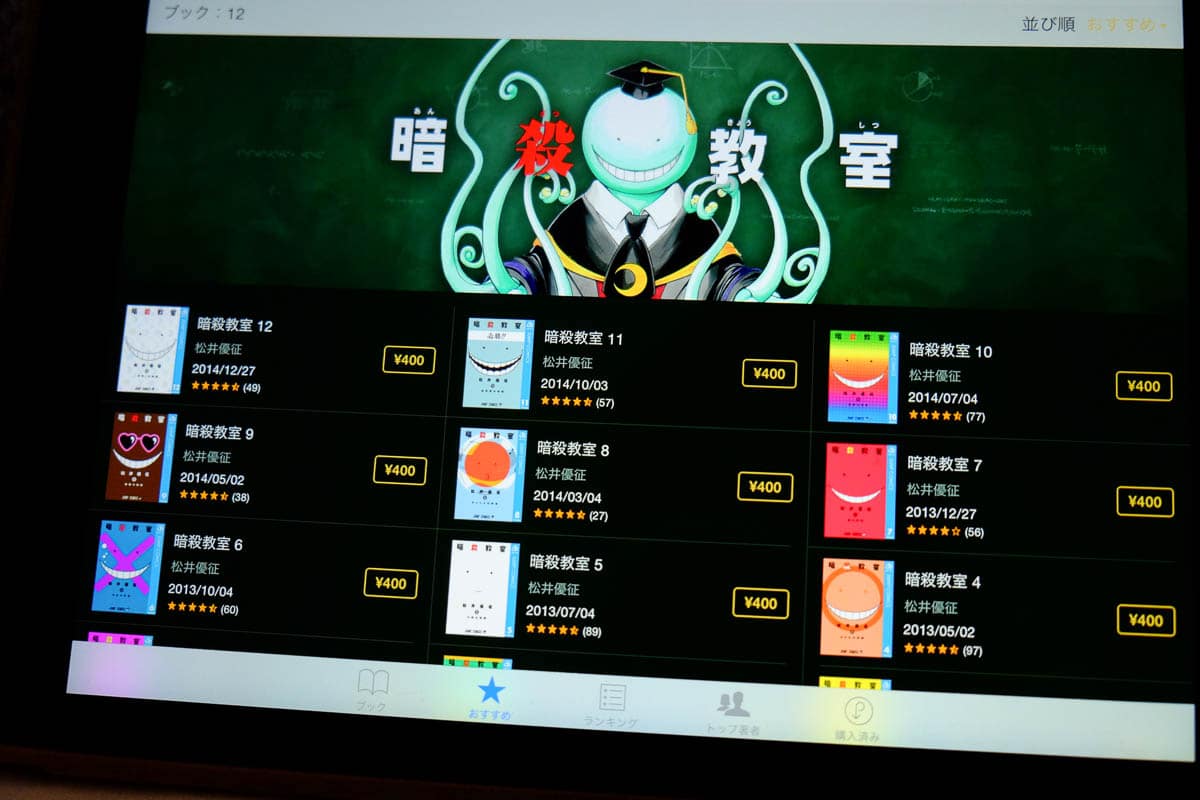 The Anime just started a couple of weeks ago in Japan and Assassination Classroom is as popular as ever. I bought the first two volumes two years ago in Tokyo and still remember that I had no idea what that title was about.
Never heard of it before. The fantastic cover artwork alone and alone hype surrounding the manga made me buy them nonetheless. I'm pretty much up to date with the manga. It's quite amusing but the characters are lacking. Except for the main one, the teacher who runs the show.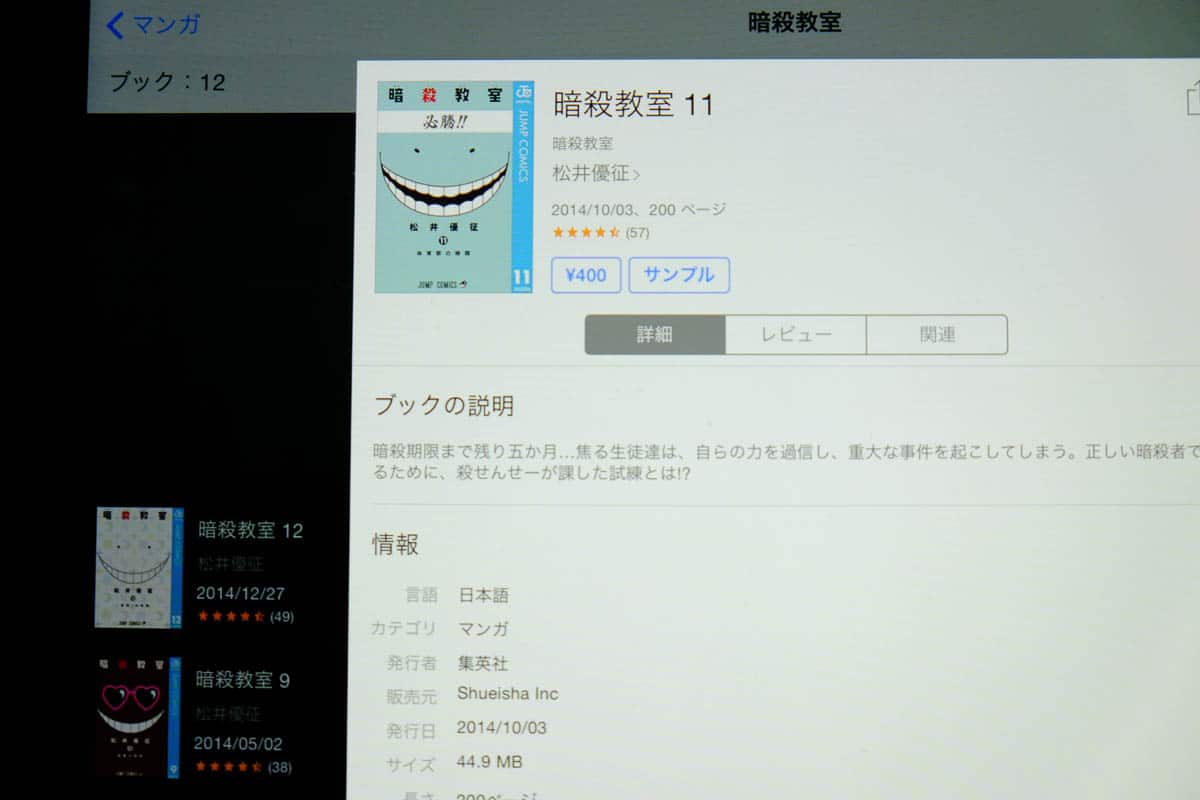 And here it is: The small button that lets us take a peak inside so we can check out the art and make sure the Japanese is manageable for us. And it lets us check for Furigana as well. Isn't that awesome? Just click on センプル and the small preview will download on your tablet or phone.